Bollywood star Bipasha Basu has publicly accused two organisers of an India Day parade at Edison Township, New Jersey, of harassing her physically and mentally.
The movie star was scheduled to lead the parade -- organised by the Indian Business Association -- on Sunday, August 13, through Oak Tree Road, a centre of Indian businesses, as Grand Marshall.
Much to the chagrin of the estimated 10,000 Indians who thronged the parade that started at 3 pm, she did not turn up.
The organisers said she would join at the stage at the end of the parade, which was led by Edison Mayor Jun Choi, Congressman Frank Pallone, Woodbridge Mayor Joseph Vitale and others. Woodbridge is another town in New Jersey.
Before the parade reached the venue near Middlesex Avenue in Iselin, New Jersey, Bipasha appeared on stage.
"I wanted to attend the parade, but I could not," she said, adding that she was harassed physically and mentally in the car by two people who were taking her to the parade.
After the bitter experience, she could not turn up for the parade, she said.
Initially, many thought it was a joke. But the sultry Bollywood star insisted it was no joke and that she was telling the truth.
The organisers tried to cut her speech short, but she asked the people if she could speak and the people said 'yes.'
She said the event is to celebrate Independence Day of not only men but women also.
"I am coming from a profession that deserves respect. I also deserve respect," she said.
At this point, one of the organisers intervened, and she stopped speaking.
"See, they do not even want me to speak the truth," she said, leaving the stage in protest.
The accusation and her sudden exit were noted only by a few people as the parade was still in progress. So it did not become a talking point at the event, which was largely successful and peaceful.
Satish Poondi, an Indian Business Association spokesperson, told rediff.com that the organisation is taking Bipasha's allegation very seriously.
"We are a respected organisation that functions since 1991. We have to conduct a thorough investigation as to what happened. Till then we cannot comment much on the allegation," he said.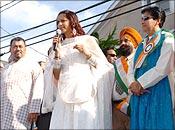 Bipasha has not made a formal complaint to the organisers, he said. The alleged incident could cause a criminal investigation, but she has not lodged any complaint with the police either.
Poondi said Bipasha had breached the contract with the Indian Business Association. According to the contract, she was to attend the programmes on time.
"She came two hours late for the programme organised on Saturday night and did not turn up for the parade," Poondi said.
Bipasha arrived in the United States on Saturday. Poondi said he did not have contact information for her or details of her itinerary.
He said the results of the investigation will be made public . "We cannot call somebody guilty till it is proved," he said.
Photographs: Paresh Gandhi