I feel older. A showing of Karan Johar's mammoth 22-reel
Kabhi Alvida Naa Kehna
has left me unbelievably exhausted. I walk out of the hall feeling my cheeks for stubble, wondering if my clothes are suddenly dated and my hair's grey.
For this is no ordinary 3.5-hour film. It is a saga that stretches on and on -- imagine, if you will, a Balaji Telefilms soap running for several seasons, time leaps and all. Yes, I've lost a sizeable chunk of my life, and you will too.
I am now older, but not wiser. Because Karan Johar, God bless his soul, has never been about meaning. He has manufactured dreams in wonderful abundance, right from the frothy Kuch Kuch Hota Hai straight out of Archie comics, to Kal Ho Naa Ho, a rom-com Julia Roberts wouldn't have looked out of place in. Johar's films are bright and cheery, all merriness and overdone cliches as wholesome as besan ka ladoo. Indulgently, a nicely-packaged treat, never mind extra desi ghee.
Tragically, Johar too seems struck by the 'Substance Syndrome', something that usually affects item girls. Not content to merely shake their booty in our glad faces, the well-built lasses suddenly bring out the dupattas and nurse deluded dreams of acting talent, resulting in much audience grief.
Similarly, Karan, the popcorn populist we all rather enjoy, has decided to turn to a deeper, darker subject. The KANK gang deals with infidelity, with broken marriages standing in the way of true love -- it is a tremendous departure from the happy-joy world the director has dealt with so far, but he can handle melodrama and undeniably make women weep, so perhaps this step made sense.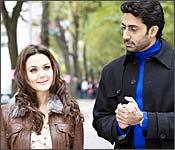 It would, if only he'd let go of his glossy fun roots. Please forget the Closer rumours right now. Infidelity is a tough subject to broach, but Karan opts for neither the compelling emotional complexity of a Silsila nor the cheeky nonsense of a Masti. Instead, he tries straddling both worlds -- imagine the unforgettable Amitabh-Rekha-Jaya story set in New York to a laugh track. Not wise at all.
So, we have failed footballer Dev Saran (Shah Rukh Khan), resentful towards fashionista wife Rhea (Preity Zinta), simply because she's a success. On the other side of the tracks, we have party-planning upstart Rishi (Abhishek Bachchan) trying hard to court schoolteacher wife Maya (Rani Mukerji), but she's quite the cold fish.
Mere seconds into the film, Khan meets Rani in red wedding regalia on a park bench, wondering if she should take the plunge. It being his anniversary, and this being a KJ film where everyone's a drama queen, he encourages her to get married even as he exposes the vulnerability of his own marriage while rudely bringing to light the fact that she isn't in love. The strangers meet, trade immense dialogue and say farewell, until Rani brings up the film's title -- never say goodbye, for then it kills the hope of meeting again.
And meet they obviously do, four-odd years later, with both marriages well on the rocks. Amid some inexplicable tomfoolery about a black-jacketed kidnapper, SRK creams Rani with a football, re-introductions are made and big life questions are brought up. Meanwhile, their spouses, being true media professionals, use the hospital waiting room to schmooze. Now, everyone knows everyone, and -- as the cracks in the relationships are predictably more than apparent soon -- the SRK-Rani affair begins, kicking off a series of contrived situations, each progressively more artificial than the last.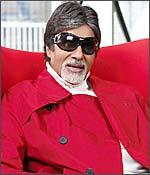 Yet, as mentioned, the possibly compelling potential for drama isn't given any elbow room. The characters are cardboard, the setting is glitzy, the songs are tiresome, and the story oscillates between high melodrama and slapstick hilarity, going nowhere.
Decidedly going somewhere on the other hand is Amitabh Bachchan, playing Abhi's flamboyant dad Sam ('sexy Sam,' the background score keeps reminding us). A widower who dresses like Snoop Doggy Dogg and cavorts appropriately with blondes, it's fabulous to see Bachchan relish this campy role, fur-lined handcuffs and all. There's a jump in his stride and a twinkle in his eye as he carries off peculiar colours with flair. And the Big B convincingly shows there's way more to him than meets the eye.
A tense romantic drama between two married couples -- and the most compelling character in the film is a dad who dresses rather bizarrely? The film is working from a fundamentally flawed script, and our four (okay, two) main leads aren't really fleshed out at all.
Khan is perpetually pissed, an angry man too busy grumbling about his limp to care about his marriage. Mukerji's character is strangely unreceptive of Abhishek's advances. Preity's Rhea echoes Bollywood cliche of career women being ruthless and uncaring. Abhi, while a bit of an upstart, is the most believably written of the bunch. But never once do you feel concern for any of them, nice New York cinematography or not.
Johar's movies are always star-heavy, but rarely has a weak script relied so completely on pretty people with big names to carry every line through. The dialogues they mouth are meant to be meaningful, trying to sound profound about trite nothingness -- then again, the script is by Shibani Bhatija, the woman who wrote Fanaa, which explains a lot. Honestly though, if you really dig Kabhi Khushi Kabhie Gham and are waiting for Fanaa on DVD, you might just love this movie. If you do, tell me how.
As for the pretty people, half the reason you've been scrolling down is to read how the stars have done. Well, it's typical. For those of us who've been hoping for a new and improved SRK, this isn't the film. Shah Rukh hams supreme, scowling and smirking seemingly in slow motion, each facial twitch exaggerated to painful proportions. From heavy breathing to simpering, breathless sobs to caricatured anger, KANK provides a virtual gallery of Khan at his most over-the-top, with the actor's emphasis making the most derivative 'American' lines very painful indeed.
While Rani is laden with flaky dialogues that most actresses would balk at, the actress manages to provide a realistic character, as far as her words allow. Unforgivable scenes are suddenly salvaged by Ms Mukerji breaking into a teary grin, and for that we must thank her.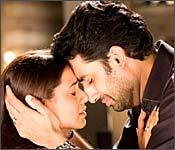 Abhishek Bachchan plays a cad, a clubbing bling-lover completely smitten by his wife, who really doesn't care. It's a tricky role, and Abhi does impressively with a nuanced performance showing admirable restraint, again despite the words. The actor has a deft comic touch, and his Rishi manages to come off both relatable and sensitive. Preity who? Zinta has barely a walk-on part in the film, her appearances pretty much restricted to the loud and showy songs. Kirron Kher (as SRK's ma) has sleepwalked through 'warmly Punjabi' roles like this before, and inevitably draws the occasional smile.
As does the film. Despite the bad handling, the pained acting, fractured narrative and twisty plot, there are moments where you grin. Moments where Khan pulls off some (ad-lib?) panache, where a line actually comes off as funny, where things work. But, in a film dragging close to four hours and making you feel each minute, we deserve way more smiles per hour.
And, for all the hype about Bollywood heading into a 'bold' direction, KANK ends up being a lot of oversight with barely any insight. No motivations are explained, no headway made. Couples on the verge of marriage would do well not to head into the theatre. You may be dumped for the choice of flick.
Damn, it still hurts. Think it'll take a couple more viewings of another film with a limping leading man to soothe the pain.
Rediff Rating: