In The Bridge Across Forever, author Richard Bach wrote: "I think it is possible for two people to change together and enrich instead of trying to diminish each other. The sum of one and one if they are the right ones can be infinity."
This sums up the beginning of director K S Adhiyaman's Shaadi Karke Phas Gaya Yaar. But if one person in a relationship wants to go up like a balloon, while the other is a dead weight, how can it work? The film was released today, two years after its completion. And, truthfully, it would have been better off forgotten.
The subject -- how a couple's equation changes after marriage -- had substance, while the film has good actors like Salman Khan and the sultry Shilpa Shetty. Sadly, neither plot nor stars give it life. Both actors are wasted. Not only has the director made a mockery of the intricacies of marriage and relationships, he has also showed career women with an independent mind in a bad light. Going by his judgement, any woman who wants a career, or a say in when she should have a baby, should be given two tight slaps and be forced to sit at home.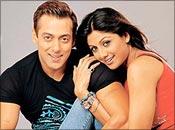 Ayaan (Salman Khan) belongs to a close-knit joint family. He bumps into model Ahana (Shilpa Shetty) in a saree shop. A number of appalling coincidences follow. He meets her at a gym along with her father (Shakti Kapoor), who likes him instantly. She bumps into him again at his garage, and conveniently forgets her diary there. This gives him an opportunity to woo her by matching all his likes – favourite colour, food, restaurant -- to those mentioned in her diary. Eventually, they marry. If only life were so simple.
Soon, cultural differences arise though, and they have confrontations on the silliest things. The film tends to get too preachy and has moments one simply can't digest. In one such moment of stupidity, after a miscarriage, the judge orders Ahana to give birth to a second baby when they go to court asking for a divorce. Another one: The court allows the husband to stay at his wife's home to make sure she doesn't harm the child!
The dialogues and screenplay by Rumi Jaffrey are amateurish. Music directors Sajid-Wajid also left the director to his own resources. There is not one foot-tapping number. The costumes are hopelessly out of fashion and look quite ugly. Overall, the look and feel of the film is not very pleasant. Garish colour combinations dominate, hurting the eye.
You wait from beginning to end, hoping for at least one good scene. You get nothing.
Rediff Rating: