Considering his track record of a flaky Pyar Mein Kabhi Kabhi and a passable Shaadi Ka Ladoo, I was rather apprehensive as I slunk into my seat to watch director Raj Kaushal's latest, Anthony Kaun Hai? But at the same time, the prospect of watching Sanjay Dutt and Arshad Warsi together after Munnabhai MBBS and the curiosity generated by the film's title soothed my apprehension, to a certain extent.
The verdict: Anthony Kaun Hai? is no Munnabhai.
It isn't meant to be, either. Contrary to popular perception, Sanjay Dutt is not the star. He is relegated to playing an extended guest appearance. It is Arshad Warsi who is the mainstay of this comic thriller, featuring prominently in every frame and raising the film to a much higher level than it would have reached without him.
You may assume the title is the key, but the curiosity is dampened by a rather anti-climactic set of events that lead to the title becoming redundant. It is probably titled thus because it is loosely based on the Hollywood caper Who is Cletis Tout? It is also inspired by several movies, from both Hollywood and Bollywood, revolving around hidden jewels.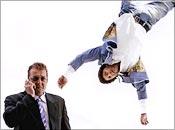 The story, told mostly in flashback, revolves around Champak Chaudhari (Warsi), who prefers to call himself Champ and specializes in forging documents. He is on the lookout for a box of diamonds hidden by Raghu (Raghuvir Yadav). What follows is a series of twists, some predictable and some not so. Along the way, Champ encounters a rather clichéd villain called Lucky Sharma (Chetan Hansraj) and an idiosyncratic detective (Gulshan Grover), apart from the expected love angle brought in by Jiya (Minissha Lamba).
The film has a multi-layered narrative, with Champ explaining his side of the story to hit man Master Madan (Sanjay Dutt). To the director's credit, he pulls off the back-and-forth narrative, generates viewer interest and makes us laugh at the same time. The humour is utterly corny, but the brilliant timing executed by the actors, Warsi in particular, will leave you with a smile. Also, along the way, are references to quite a few old movies as Dutt's character is shown to be a huge Hindi movie buff.
The twists in the plot do not come out as interestingly as they could have. Apart from Arshad's character, none of the characters are well defined. In fact, the fringe and negative characters are not just stereotypical, but also grating and loud. It doesn't really help when one of the supporting actors is a certain Gulshan Grover, who is called Singh and insists on humming tunelessly throughout.
With humour dominating the proceedings, one gets a feeling Raj Kaushal was confused about the kind of movie he wanted to make. With the added romance angle and songs that spring up from nowhere, it comes across as mishmash. It has twists, thrills, style, comedy and romance, but none of the elements come out too convincingly in the end.
The editing could have been tighter – a good 15 minutes and at least two songs could easily have been omitted. The ending is completely filmi, and rather anti-climactic after the two-hour build up. The music is another negative point. Himesh Reshammiya has his staunch detractors and loyal fans, but whether you love or hate him, it can't be denied that the man is getting highly repetitive. The songs are lacklustre and, worse, they keep interrupting the flow of the narrative. These numbers are strictly for toilet breaks.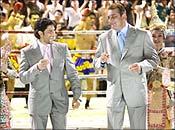 Sanjay Dutt fans may be disappointed by his reduced screen time, but he plays another undemanding role well and is happy relegated to the background. Sanju Baba is the film's style factor and, this time, he has a Ferrari to boot. Raghuvir Yadav is a major disappointment, consigned to a one-dimensional role and sporting an Abdul Kalam-inspired hairstyle. Minissha Lamba passes muster, while the rest of the characters are passable.
The film belongs to the eminently likeable Arshad Warsi. Say hello to one of the most underrated actors around, who plays a role that is a complete departure from his usual sidekick characters. He sails through, carrying the film on his shoulders.
Anthony Kaun Hai? could well have been titled Anthony Con Hai? as the film barely revolves around this question, or Anthony Corn Hai, courtesy the humour that goes overboard at times. Don't go with too many expectations. But watch it for the man who ends up giving an extra star to the movie's rating.
Watch it for Arshad.
Rediff Rating: