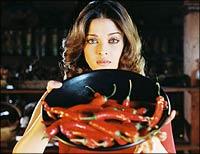 A few years before they wrote and directed their 2003 hit film Bend it Like Beckham, the husband and wife team of Paul Meyeda Berges and Gurinder Chadha were given a novel written by a new author, Chitra Banerjee Divakaruni. And the book – The Mistress of Spices got them all excited.
"We were delighted to find out that here was someone in the US who was exploring the same themes as us, in terms of diaspora, culture, cultural negotiations and identity," Chadha says from her office in London. "And the name of the author was very familiar to me."
A sneak peak into Mistress Of Spices
| | |
| --- | --- |
| | More on rediff.com! |
| | |
When she got back to London, Chadha went through her bookshelf. She found a copy of Arranged Marriages -- Divakaruni's collection of short stories. "In it was a letter from Chitra, saying how much she had loved Bhaji on the Beach (Chadha's first feature, released in 1993)," Chadha adds. "And she said she didn't normally inflict her work on people, but she was so inspired by the movie that she wanted to send me her book and hope that one day we might work together. So it was quite fortuitous."
"What was fresh about the book was that it combined beautiful immigrant tales with magic realism," adds Berges, former director of the San Francisco International Asian American Film Festival. "I hadn't seen that done cinematically, other than in Like Water for Chocolate (1992). It isn't always easy to do, but I thought the book was so visual and so rich."
Ash is the mistress of spices!
Mistress of Spices – the directorial debut of Berges -- is based on a script he co-wrote with Chadha. The film opens in India and UK on April 21 and a week later in the Indian American theatrical circuit in the US. Berges and Chadha plan to release the film in the mainstream or art-house theaters later this year. Those rights are with the Weinstein Company – run by the brothers Harvey and Bob Weinstein, founders of the Miramax distribution production house. Last year Miramax released Chadha's Bride and Prejudice (2004).
But the strategy to release Mistress close to the film's opening in India has to do with the issue of copyright and film piracy. The filmmakers do not want pirated DVDs of Mistress from India to flood Indian video stores across the US. "We don't want to be killed by piracy," Chadha says.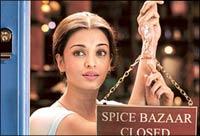 With all their interest in Divakaruni's book, Mistress would not have been made into a film, had it not been for the worldwide success of Bend it Like Beckham. "It was difficult to make because it is dealing with themes that are of much more interest to people like us," says Berges. "It is difficult for the traditional type of film financiers or producers or distributors to relate to it in the same way as we can emotionally."
Plus there was the issue of who could be cast to play the lead role of Tilo. This was prior to the making of Beckham and, at that time, cultural stories were not thought to be commercial enough. "We would be asked whether there were any stars outside of India who could play the lead." Berges adds. "What is exciting is how much that landscape has changed."
In the last couple of years, Aishwarya Rai has established some credibility in the international film market. Though she has yet to star in a major Hollywood production, her presence at international film festivals, coupled with the release and modest success of Bride and Prejudice, has made Rai's name somewhat recognizable.
"We had established Aishwarya from Bride and her being in Mistress made it easier to finance the film," Chadha acknowledges. "Paul had given her the script during Bride and she really responded to it. I think if you see the film, my belief is that it is probably Ash's best performance. It is much better than Bride and much more understated. This feels much closer to who she is and her sensibility."
The connections Berges and Chadha found with Mistress were similar and yet widely different. The US-born, Japanese-American Berges had lived in the San Francisco bay area -- the same location where Divakaruni sets her novel. In writing the script, the two came to know Divakaruni rather well. They even lived with the author in her home while working on the first draft of the script.
"When I first read the novel, I was really impressed that here was this Bengali woman who had captured the spirit of the bay area so well," he says. "I loved the setting and that the customers were so diverse. For me, that sense of having African Americans, Native Americans, Bengalis – all these characters going to the same spice shop, was something very particular to the bay area."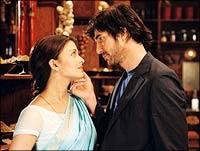 But the Kenya-born and London-raised Chadha was intrigued by the book's first generation immigrant characters. "Except for Geeta's (Padma Lakshmi) story," Chadha adds. "And we had fun with that and Geeta's grandfather character played by Anupam Kher." Apart from Geeta's story, all other segments -- including one featuring Haroun (Nitin Chandra Ganatra), the Kashmiri cab driver -- are from the point of view of first generation immigrants.
Like Berges, Chadha too was initially attracted to the story through its magic realism. "The film is a fable," she says. "People appreciated our previous works. But this is really a departure from that style and if people are expecting a realist film, they must leave those expectations at the door. This is very much a film in the tradition of the Latin American magical movies."
In putting together the Mistress team, Berges and Chadha not only signed up actors they had worked with in the past – Rai, Kher and Ganatra -- but they brought with them crew members from their previous film teams, including Santosh Sivan, who had also shot Bride and Prejudice. "I really felt lucky that this was my directorial debut, because I felt so supportive," Berges says. "Because Gurinder and I lived with the film for so long and it had really become a passion project for us, my first thing, my big lesson was that I was going to enjoy every day and let all these fantastic people do what they do."
"I could have easily panicked," he adds. "But I didn't allow myself to. What I learnt from Gurinder is that she really creates a great atmosphere on the set and she enjoys it and laughs a lot. I wanted the same feel. I didn't want it to be stressful."
Chadha joined Berges on the set for the first two days. But when she realised that Berges was totally in command and knew what he was doing, she decided to leave. "I kind of started feeling a bit in the way, so I came back to the States," she says. At that stage, Chadha was set to direct I Dream of Jeanie for Sony Pictures. The project is now on hold. "Paul knew all these people and it was nice to see him develop relationships with them. They related to Paul differently than they did with me, so I really felt it was time for me to move out."
And in observing Berges work, Chadha saw the similarities and differences in their directing style. "I think we are similar," she says. "We are very personable. So we want our set to feel like that. We do not go about throwing tantrums or shouting at people. Paul is probably a lot quieter than I am and also more industrious, where I am much more of a Punjabi with a chalo, chalo kind of attitude."