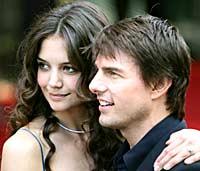 Tom Cruise and his fiancee Katie Holmes became the proud parents of a baby girl today.
The baby has been named Suri.
She weighed 3.4 kilograms. Both mother and daughter are doing well.
The name Suri means 'princess' in Hebrew and 'red rose' in Persian, according to Cruise's publicist.
The child is the first natural child for Cruise, 43, and Holmes, 27. But Cruise has two adopted children -- Isabella, 13, and Connor, 11 -- who live with his former wife, Nicole Kidman.
The birth was rumoured to be silent, as per the rules of the Church of Scientology that requires a child to arrive in a calm, peaceful world.
Cruise began dating the Batman Begins actress about a year ago.