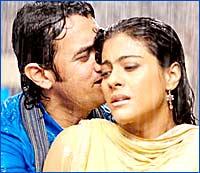 The thing about hype is, it only exceeds.
Take Fanaa for instance. It's got Aamir Khan. That is enough to get the audience interested.
Kajol is his leading lady. That it happens to be her comeback film post-Kabhi Khushi Kabhie Gham only adds fuel to the hype factor. There is no way this hype will stop from building if it happens to be a Yash Raj film directed by one of its protégées, Kunal Kohli (Mujhse Dosti Karoge, Hum Tum).

Fanaa is right there in terms of all the promotional publicity surrounding it. But its soundtrack is a stinging disappointment. Jatin-Lalit's music hardly takes the uncharted route and is mostly pleasing. Here, in trying to do something different, J-L ends up dishing an uninspired score, which can be rated above average at best.
| | |
| --- | --- |
| | More on rediff.com! |
| | |
The album opens with Shaan and Kailash Kher's contrasting vocal presences in Chand sifarish. Well versed and rhythmic in melody, the vibrant number is an instant hit on the senses. Incidentally, the song features a whistle theme, which is the tune of the unused Yaara yaara from Hum Tum. Chand sifarish is featured once again in a zippy and rocking avatar as the club mix version, Fanaa for you by DJ Aqueel.

The first thing that strikes you about Mere haath mei is the arrangement by Salim-Sulaiman is clearly inspired by A R Rahman's style. Listen to it and you'll know what I mean. Be patient on this one, though. Rendered soulfully by Sonu Nigam and Sunidhi Chauhan, the romantic rhapsody takes its own sweet time to grow on the listener. But the occasional voiceovers by Fanaa's lead protagonists -- Aamir Khan and Kajol -- grate on your nerves.

It's time for filmi jingoism in the form of Des Rangila. Basically a functional composition it is never close to extraordinary. The vibrancy and richness of Prasoon Joshi's pen particularly stand out. Even so the lacklustre Rangila relies on fancily uttered Vande Matarams, by the chorus, to force a listener to pay attention.

Unhurried and mild in its tempo and mood, Dekho na's diluted mushiness fails to ignite sparks. The strains are too sombre and hence become too bland for their own good.

Hum Tum's idle track Yaara yaara gains more mileage here. It is transformed into a full-blown fresh act with a new name, Chanda chamke. Babul Supriyo and Mahalaxmi Iyer along with Khan, Kajol and Master Akshay Bhagwat enthusiastically perform this tongue twister of a melody. Though limited musically, Chanda is entertaining nevertheless.

The lounge mix, Destroyed in love is a scattered compilation of bits and pieces of Fanaa songs. It is neither unconventionally experimental nor conventionally tuneful.

The subject of Fanaa is not fluffy. It's the love story between a terrorist and a blind woman after all. J-L's soundtrack fails to have intense character or lend passionate nuances to this complicated romance.
Rediff Rating: