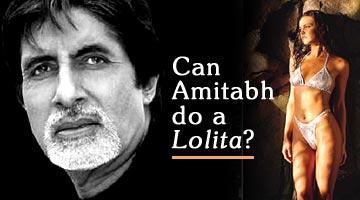 Amitabh Bachchan can do anything.
The actor has played it all, from messiah to psychopath to superhero, and handled it well. Now comes yet another challenge: will the actor be accepted in a role as controversial as Nishabd?
The Ram Gopal Varma film is said to be based on one of the finest novels of the century, Vladimir Nabakov's super-controversial Lolita.
Will audiences be able to stomach Bachchan as a paedophile? RGV is careful, however, to keep the girl old enough to avoid legal implications -- Bollywood newcomer Jia will play an 18 year old, while the Big B's character will be 54. The director has described the film as 'a passionate love story.'
Also, films based on Lolita could prove suicidal to an actor's image. Jeremy Irons has still not completely recovered after playing the infamous protagonist in a weak 1997 adaptation.
What will become of Bachchan playing such a risky role, especially in front of an audience that considers 'Lolita' itself nothing more than a Shakti Kapoor catchphrase?
What do you think? Can the Big B pull it off?