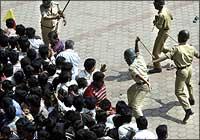 In a violence-marred mourning, five persons were killed, including three in police firing and a constable in crowd fury, as Kannada film icon Rajkumar was given a tearful farewell by tens of thousands of people amidst scenes of chaos in an emotionally-charged atmosphere.
The incident occured near Siddalingaiah circle, close to the Kanteerva stadium, where the thespian's body had been kept to enable people to pay their last respects. Police said they initially resorted to a lathi charge and bursting of teargas shells, but resorted to firing when they failed to control the situation.
The fans resorted to stone-pelting and targetting vehicles in and around Kanteerava Stadium.
Some policemen were also injured in the violence. A bus belonging to the Karnataka State Road Transport Corporation and another of the Bangalore Metropolitan Transport Corporation was torched by a section of the crowd. Several private vehicles were also damaged. The unruly crowd also attacked the police. A heavy posse of policemen was pressed into service to control the situation.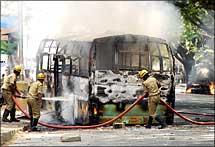 A television channel vehicle was also stoned, police sources said. An 'undeclared bandh' was observed in many parts of the state, where Rajkumar was a revered figure, including district headquarters town of Bellary, Raichur, Mandya and Mysore. Film-related activities came to a halt, and there were no shows at theatres today. Government offices, banks, courts, schools and colleges were closed, while shops and business establishments downed their shutters.
Look: Bangalore pays last respects
Most private companies, including software firms, had declared a holiday today in the country's IT hub. Roads in many parts of Bangalore were virtually deserted, as few ventured out of their homes. Tourists were hit hard, with local transport service badly crippled. A few autorickshaw drivers who ventured to ply after persuasion by police tried to make a fast buck, demanding three to four times the normal fare. In Mysore too, similar scenes prevailed with neither transport available nor hotels open, leaving tourists in the lurch.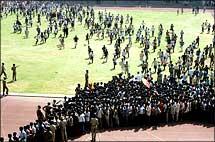 The fans gave vent to their ire after failing to catch a glimpse of the thespian, as there was a 'mad rush' by people to pay their respects. It was a scene of chaos in and around the stadium, as fans went berserk. The funeral procession began at the stadium this afternoon and culminated at Kanteerava studios at 5 pm.
Grieving fans stood atop buildings nearby, hours before the mortal remains of Rajkumar were to be brought in procession. The superstar's body was laid to rest with full state honours at Kanteerava Studio as chaos reigned. The body was buried according to the custom of the Idiga community from which Rajkumar hailed. His sons, Shivarajkumar, Raghavendra Rajkumar and Puneeth Rajkumar performed the last rites.
A 43-year old man, identified as Muniraju, was killed in police firing. At the studio premises, crowds moved menacingly close to the site where rituals were to be conducted. Police opened fire near the studios that claimed two lives while a constable succumbed to grievous injuries at a private hospital due to mob fury.
Special: Farewell, Dr Rajkumar
Photographs: Getty Images