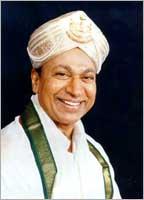 Kannada thespian Rajkumar is dead, according to his personal physician Dr Ramana Rao.
The septuagenarian actor died following a cardiac arrest on Wednesday afternoon, Rao told PTI. Rajkumar was shifted to the M S Ramaiah hospital in Bangalore where he breathed his last with his family members by his side, he said.
"We tried to revive him but could not succeed. We did everything," Rao said. The 78-year-old actor, who made his debut in the film world nearly five decades ago, is a revered figure in the state of Karnataka.
He was admitted to the Wockhardt Hospital and Heart Institute one-and-a-half-months ago after he complained of chest pain, bronchial allergy and lung infection. He was discharged within days after he fully recovered.
His son Raghavendra had then said that Rajkumar was under a 'lot of tension', after the recent passing away of his younger brother Varadaraj, who was the 'architect of his entire film career'. Rajkumar had also been hospitalised in January following 'neurological problems.'
Complete coverage: The abuction of Dr Rajkumar