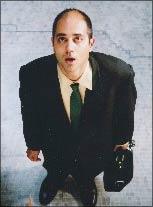 Like most New Yorkers, the events of September 11, 2001, left Ayad Akhtar shocked. 
For a Pakistani American born and raised in Milwaukee, Wisconsin, his immediate reaction was of horror and terror. 
"I remember saying this will be the last day I will be alive and who knows what will be next," says Akhtar, the lead actor and screenplay writer of The War Within. "With time, I began to sift through my own experiences as a Muslim American and began to realise that this was a long way in the coming. There was this rift between the East and the West."
"My work, since then, has been trying to understand that rift, and it has also been about taking up this vacuum in terms of: who are these people (the Islamic terrorists)?" he adds. "(I have been) trying to find out, in a nuanced manner, and to begin painting a portrayal of these people, and (also questioning) who am I?"
The War Within, a powerful drama straight out of today's headlines, is a story of a would-be suicide bomber who enters the US and takes refuge with a friend and his family in Jersey City. The film boasts of strong and moving performances by its lead actors. Akhtar plays Hassan, a defiant terrorist, with conflicting elements of doubt, warmth but also steadfastness in his beliefs. Firdous Bamji, Nandana Sen, Sarita Choudhury and Varun Sriram play the unsuspecting family members who welcome Hassan within their fold.
Indie film distribution company Magnolia Pictures is opening The War Within in New York City on September 30.  It will then gradually open in other major markets in the US.
| | |
| --- | --- |
| | More on rediff.com! |
| | |
The War Within is written by Akhtar and two classmates from Columbia University's graduate film school program -- Joseph Castelo and Tom Glynn. Castelo also directed the film.
In addition to The War Within, the three also collaborated on a short film Life Document Two: Identity -- a probe into a Pakistani-American's conversion to radical Islam. The film was shown earlier this summer at Asian American International Film Festival in New York City. 
"The world changed dramatically after September 11," says Castelo. "But this (The War Within) is a post-September 11 film.  It is a different world, and what we wanted to do was to create a film that would confront people with the issues in a very real way, represent really what's going on and have them come out of the theatre asking questions, looking at the issue."
"Our intention is not to disturb the audience," Castelo adds. "I live in Manhattan, and we don't want to sit around in subways for too long also. But the appropriate place to experience this is in a movie theater. It is a movie. I hope people don't react hysterically to that."
The challenge for The War Within is to convince the audience that a potential suicide bomber can also have a human dimension. Given the nature of our world over the last four years, a large percentage of people in West have strong and simplistic views about suicide bombers.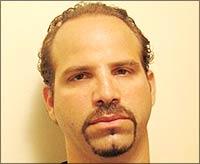 "I feel that if people do not believe that their enemy is human, then I really think that we are doomed," says Castelo, who grew up in a Catholic household in New Jersey. 
Akhtar adds that stereotypes are out there in any case. "How can we strengthen what is already out there?" he questions.
He believes The War Within offers the audience an attempt to empathise with Hassan, "a character who, in his situation, might not do the same thing for us. And, to me, there is something very powerful in that."
Without giving away the resolution of the conflict, Castelo feels the ramifications of Hassan's actions towards the end of the film indicate that he does not succeed. "It should not strengthen the position of those with a preconceived notion about terrorists," Castelo says. 
As scriptwriters, Akhtar and Castelo emphasise that in working on this project they had hoped to give voice to Muslims such as Hassan's host family in The War Within. "I believe the largest percentage of Muslims would do what they do (in reacting to a terrorist's presence in their midst)," Akhtar says. "This film is about moderates and not about fundamentalists."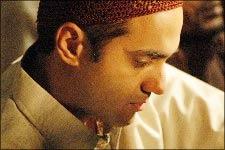 Before working on the script in 2003, the trio went to a group collaborative therapy coach -- a person who works with Fortune 500 companies, encouraging people to interact efficiently in teams. Despite the therapy session, there still were differences between the three but they rarely came to blows and arguments that could have led to the breaking up of the partnership.
Up next for Akhtar and Castelo are very different projects. Akhtar is writing a novel -- Broken Images, about an underground Sufi movement in the Mid-West. Then there is a joint screenplay being planned about a group of Jesuit missionaries and their journey to the north to convert Eskimos.
"I can't wait to start working on something else," says Castelo, adding that promoting the film is a new and difficult experience for a young director like him. "You make a film. You are very engaged and insolated. And you come out on the other side, it is over and everyone wants to know what do you mean by this and that?"
He feels like a musician who wants to sing.  "But he doesn't want to talk about the song."