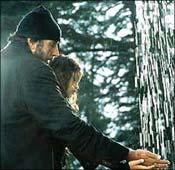 Dearest Black,
It shocked me to read you weren't chosen as India's Oscar entry.
With thousands starving for stellar cinema, you should have been India's banquet to the world. It's been three days since the decision was announced. And my mind is still trying to work out what went wrong with the jury on the evening of September 26, 2005.
'Paheli was a unanimous decision'
How did they miss you? How did the men and women sitting before you not hear your heart-rending dialogues?
How did they not hear you softly say, "I'm growing old, Mrs McNally. I want Michelle to learn how to fly before I fall."
How did they not hear you roar at Michelle: "Now don't just stand there like a failure!"
When she knocked into an obstacle and fell face-down onto the floor, how did they not hear you declare, "With every fall, she will only rise higher."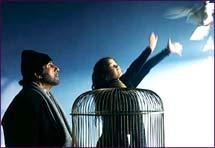 How did they remain unmoved by your indomitable spirit? Your mighty performances? Your spectacular interplay of light and shadow?
I vividly remember a sequence -- his back to us, Debraj Sahai stands hunched near a glass door, listening to Mrs McNally. She faces us while she tearfully thanks him for transforming her Michelle into a fine young lady. To capture this poignant moment, an ordinary cinematographer would shoot one character, cut, and move around to shoot the other. But yours is no ordinary cinematographer. He drew on his genius to show Mr Sahai and Mrs McNally together, without cutting between scenes -- he masterfully placed his lights to cast Mr Sahai's reflection on the glass door. And we saw both characters' faces even while one stood with his back to us.
I haven't seen such brilliance in any other Indian film. It must have blinded the jury.
When I try to make sense of their absurd verdict, my mind tells me they acted out of compulsion. They simply could not have voted in your favour -- they have not Come Into The Light.
They can't bear your beauty, Black.
You might have been less threatening had you not achieved self-actualisation; had you not been a masterpiece wrenched out from the depths of your director's being; had you not soared above conventional cinematic norms.
Maybe your passionate creator erred in exhausting his energy to rejuvenate us with soul-stirring melodies. He erred in burning his insides to extract the madness seated deep within your actors. He erred in believing us deserving of his creation.
I cannot help but wonder -- what qualities should you have possessed to be considered worthy of reward?
Should you have been set in rural India? And flaunted decorated camels? Had seven songs and seventeen dancers? And babbled unintelligibly in a heavy Hindi dialect?
Perhaps you should have had colour.
And Shah Rukh Khan.
Why Paheli is better than Black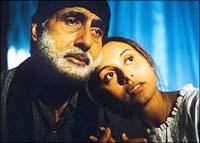 Surely then the jury would approve of you. And I would detest you.
For whatever it's worth, dearest Black, I want you to know I love you -- just as you are. You're magnificent, and you know it.
Your Say: Is Paheli the right choice?
This one-woman jury votes for you -- once, twice, twelve times.
May your brilliance spread far and wide.