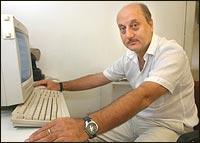 Anupam Kher appears quite charged about his forthcoming film, Maine Gandhi Ko Nahin Mara. This much was apparent from his answers during a chat with rediff.com readers on September 19.
The film tells an unusual story about an old man, Professor Uttam Chaudhary (Kher)'s connection with the assassination of Mahatma Gandhi.
Directed by nine-time National Award winner Jahnu Barua, it also stars Urmila Matondkar and Boman Irani.
For those who missed the chat, here's the transcript:
Anupam Kher : Hello, This is Anupam Kher. You can start sending your questions.
---
fraz : THIS IS FRAZ FROM PAKISTAN....JUST WISHIN YA BEST OF LUCK AND STAY FIT.....
Anupam Kher : Thank you Fraz.
---
YRFanNoI : Hello Anupam Ji just wanted to say that you look smashing in the promo of MGKNM, I cant wait to watch this movie, seems you will have an amazing performance, when is the music releasing?
Anupam Kher : Thank you for praising the promo of Maine Gandhi Ko Nahi Mara. The film is releasing on 30th September worldwide. It's being distributed by Yash Raj Films. It's a great film, even though I say it myself. I am sure you will like it.
---
rani : Why make a film on Gandhi?
Anupam Kher : Because Gandhiji is more relevant in today's times than he was at the time of Independence. His theory of non-violence should be practiced in these days.
---
OJJ : Is MGKNM really releasing in 2 weeks time?
Anupam Kher : The film is certainly releasing on 30th September 2005. The film has an universal theme, it touches human heart in these days of globalisation and market values dominating us.
---
abhi : Namaskar Anupam ji,what are ur coming movies...are u interested in direction as well? Bollywood copies many movies from hollywood, is there any scarcity of good script writers in india? how do u see this habbit of remaking.
Anupam Kher : Maine Gandhi Ko Nahi Mara (MGKNM) is fresh because it's an original script. That's why I decided to produce it. It's a story which blew my mind when I read it and we have managed to transform it into a beautiful film.
---
M. Linda : namaskar maharah
Anupam Kher : Namaskar! Your expression suggests that you are a Kashmiri.
---
AnupmUncle : ANy plans of starting acting school....
Anupam Kher : I have opened an acting school called 'ACTOR PREPARES' seven months back. We are into our third batch, you can get more details about it at www.actorprepares.net or by calling 0091-22-26605659/55797855
---
Anirban : Hi Mr Kher,Will you please tell me what sort of research you had to do for the film?
Anupam Kher : As I said earlier that I wanted to avoid using my craft as an actor. For 3 months I studied the script and went to a lot of old people's homes and read lots and lots of books on Gandhiji.
---
pratakshya : Hello Sir. How r u? My query, how relevant, do you feel, is the importance of social messages in cinema. I ask this coz ur directorial debut seemed more social oriented than other commercial movies.
Anupam Kher : To me, cinema primarily is to entertain, but most of the movies do have a message or the other somewhere. It's upto individuals watching movies to grasp that message and maybe apply that in their lives. Maine Gandhi Ko ..... has a very strong message of our attitude towards older people, father and daughter relationship and of course the teachings of Gandhiji.
---
HUSSAIN : I AM TOO MUCH INTERESTED TO MAKE MOVIE AND CAST YOU A LEADING ROLE IN MY MOVIE, ARE YOU INTERESTED
Anupam Kher : You send me the script and if I like it I will certainly work in the film.
---
Shantanu : Mr Kher, as an actor what charactar did you find the most difficult to put on reel?
Anupam Kher : My role in MGKNM is so far the most difficult role that I have done. I have tried not to use the craft of an actor acquired over a period of 21 years, but tried to be the character of Professor Uttam Choudhary.
---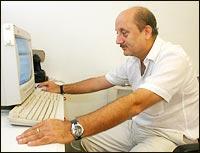 S Sheema : hello sir!
Anupam Kher : Hello my dear. Where do you live? And what do you do?
---
Jay : Dear Mr. Kher, Are you still in touch with Michael Jackson ?
Anupam Kher : Jay, I am a great admirer of Michael Jackson's work. I keep an update on him.
---
mike : You looks very cool and calm on screen but seems very short tempered in real life? Your comments please?
Anupam Kher : I am cool and calm even in my real life. I don't know what gave you that impression. Yes I do believe in raising my voice if I feel injustice is being done. If that is getting angry then I do.
---
Rajat : Title of your new films is interesting; but don't you feel in presnt context we are killing Gandhi's Values day in and day out - no moral commtittments towards public and country
Anupam Kher : You have answered your question yourself and that is what the film is all about. It's also about Gandhiji's value in the present scenario being neglected. I feel (this is not a promotional line) every Indian should see this film.
---
OJJ : Anupam Ji, when will we see new trailors for MGKNM?
Anupam Kher : The promos of MGKNM are already on air. We are releasing a music video of the film tomorrow exclusively on MTV first and then other channels.
---
siraj : What is your message to aspiring strugglers.
Anupam Kher : There is no alternate to hardwork and honesty. My belief is it always pays ultimately. My grandfather used to say 'if you want something desperately, go for it with great honesty, you will positively get it'. In my case personally I have never so far disappointed him.
---
Govind : hello kher sir, why have u cut down ur work in films. i liked ur work in many movies like saaransh, karma, daddy, shola aur shabnam.......
Anupam Kher : In the last 21 years I have done about 310 films, done all kinds of roles, wore all kinds of wigs, beards and moustaches, spokes all kinds of lines. So it's time now to do roles only if they excite me. It's very important to grow as a person.
---
sati : sir wht's your date of birth ???
Anupam Kher : 7th March.
---
fan : If you would want to change one thing about the film industry, what would it be?
Anupam Kher : Maybe professionalism. We just need to be more professional and organised.
---
ananthee : Hello Sir, I am writing from australia, I am a very big fan of your Acting basically. My question to you is The art of acting in todays cinema has lost its way in blind following of western culture. How do you see the future of indian cinema as far as acting is concerned is headed towards?
Anupam Kher : For me, a mediocre Indian actor is far superior than any other actor anywhere in the world. In most of the cases we have to enact out situations which are exaggerated and illogical, but acting is about conviction. We cater to the masses who buy tickets over here and entertain them.
---
Sukhbir : Well....Kher saab, this is my third question, i havent got any replies for the first and second one. Anyways: I dont believe in Gandhi and any of his preachings. Infact, i believe in violent ways to achieve Dharma. Had we taken up arms to fight the terrorists (ofcourse primarily in Kashmir), they would be have been rooted and today we wouldnt have seen PoK as a different nation. Your take on this?
Anupam Kher : You have a right to have an opinion. I don't agree with that. Violence has never achieved anything. Gandhiji got us freedom without using violence. Killings are no way a mean to freedom. In our families we don't use violence to achieve things. We must apply the rules or sentiments for our country what we apply at home.
---
er_abhay : why the good actors(like u, nasheerodeen shan, om puri) are away from classic cinema and doing ordinary roles
Anupam Kher : To me life is a mixture of ordinary and extra-ordinary things. Life is 90% monotony and 10% excitement. If I had chosen only certain rules I would have missed out so called mundane things of life, which are equally important to me.
---
Prem : IT LOOKS YOU ARE ANSWERING ONLY THOSE QUESTIONS ON WHICH YOU ARE COMFORTABLE? i ONCE AGAIN REQUEST YOU T PLEASE ANSWER MY PREVIOUS QESTIONS.
Anupam Kher : Prem, can you please send your question again?
---
fan : Sir, Do you believe Gandhiji alone was responsible for Indian freedom, I believe it was a combination of both non-violent and violent movements like that of Bhagat Singh, Subhash Chandra Bose. Are we dis regarding their contribution?
Anupam Kher : There were millions of Indians who participated in the Freedom struggle. Its all their efforts which have got us this freedom. Bhagat Singh and Netaji played a very crucial role. Gandhiji used a mean which I relate to personally and that is non-violence.
---
Lal : Anupamji, You should not have resigned as the chairman of the censor Board because honest, down-to-earth and capable persons like you should head such positions to safeguard our culture and values from eroding to such a dimension at present. I was sad to see you resigning from such an important post.
Anupam Kher : I did not resign, I was thrown out. I may not be the chairman of CBFC but will continue my responsibilities as a responsible citizen of this country.
---
9vinay9 : First Saransh now MGKNM....you are on of the most versatile actors in hindi film industry. keep it up..all the best
Anupam Kher : Thanks you for your compliment.
---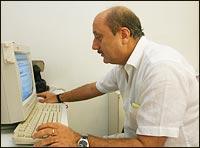 Neo : Rediff people: Please forward my question to Anupam ji...Mr. Anupam, I find you as the most "real" actor in bollywood in terms of your acting on screen and professionalism off it. It must be very frustrating to be in the environemnt where others might not "see the light". How do you handle such people/situations?
Anupam Kher : Thanks for your compliment. I am by nature an optimist and only look at the positive side of life. I also believe in the saying 'Karam Kiye Jaa'. About handling people I try and understand their point of view so it becomes easy for me to deal with them.
---
tareq mohammed : HI ANUPAM JI IM UPSET I DIDNT GOT ANY REPPLY FROM U I SAID FEW SHAIRI FOR U HOW WAS IT?I FEEL THAT UR THE BST ACTOR IM SEEING U FROM MY CHILDHOOD U AND UR ACCTING U HAVING ACCTING SKILL FROM BRITH OR U GOT TRAINING FROM ANY SCHOOL ?
Anupam Kher : One may have some inherint capabilities of acting but to be a professional actor you need training. I am a trained actor from the National School of Drama and now I have opened an acting school 'ACTOR PREPARES'.
---
vnarsimha : Vanakkam Anupam Ji.. this is Narsimha Rao.. I admire you a lot..I would love to see you as a villain in Ram Gopal Varma's movie...any plans? what do you say?
Anupam Kher : Vanakkam you should ask this question to Mr Ram Gopal Varma. I will be happy to do a major role in one of his films.
---
SirajAgain : Whats common between you and Ghandhi ji
Anupam Kher : I am flattered that you asked me this question and put me on a platform along with Gandhiji. I like Gandhiji do believe in Indian values and non-violence.
---
Iyer : Gandhi was I believe a crypto-Islamist. he was a practising moslem behind the purdah. Because everyone of his acts caused Pain, and total destruction of Hindus. But his every action gave immense support to Moslems and their terrorist methods.
Anupam Kher : I am sorry and feel sad for you that you think like that.
---
HRS : What happened to the defamation case you filed against Harkishanji?
Anupam Kher : I pardoned him.
---
ayaskant : Hello Mr.Kher,you look like an intellectual in the Film Industry (like Balraj Sahney). But we dont many intellectual movies. Any comments on this ?
Anupam Kher : Thanks for comparing me to Balraj Sahney. Acting is my job and I enjoy it. I don't necessarily believe that it should interfere with my intellect.
---
OJJ : Anupam Ji, how the experience of being directed by national award winning winner Jahnu Barua
Anupam Kher : Mr Barua is a very gifted director. He is a master story teller. I loved being directed by him. You will see that when you watch Maine Gandhi Ko Nahi Mara.
---
mike : AS YOU HAVE SUGGESTED "KARAM KARATE JAYE", I HAVE KEEP POSTING QUESTIONS FOR YOU IN A HOPE THAT MY QUESTIONS WILL GET SOME CONSIDERATION? MY QUESTION IS do not you thing that what our prime minister said in UK is correct? that british rule has given lot many things to india... moreover do not you think that if britishers were here today this country (i will not say india)could have done better progress?
Anupam Kher : I can't pass a judgement on our Prime Minister's comment so I do not know in what context he made that statement. To the second part of your question, will you ask your neighbour to run your home because you think he will handle it better.
---
Gaurav : HI SIR GOOD AFTERNOON, I AM A GREAT FAN OF YOU, I LIKE YOUR SARAANSH MOVIE, AMITABH MOVIE'S VIRUDH IS JUST SIMILAR WITH YOUR MOVIES, BUT YOUR PERFORMANCE WAS OUTSTANDING
Anupam Kher : Thanks Gaurav for the compliment. I have not seen Virrudh but I am a great admirer of Mr Bachchan's work.
---
ddddd : ANUPAMJI, YOU DID NOT ANSWER MY QUESTION, HOW DID YOU COPE UP YOUR BALDING
Anupam Kher : I was devastated in the beginning. I had not seen a bald actor in the Indian cinema, but later on turned it into an asset for myself. Today BALD IS BEAUTIFUL. God only made few perfect heads, rest he covered with hair.
---
Anupam Kher : I am sorry I have not been able to answer everybody's questions. But it has been a pure delight to chat with you'll. Please go and see Maine Gandhi Ko Nahi Mara releasing on 30th September. Good bye. God Bless You!! And remember 'everything is ok in the end if it it is not ok it is not the end', love Anupam.

Photographs: Jewella C Miranda