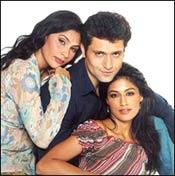 Believe me, I really wanted to like Kal. I liked the promos, the feel of the music, the actors were stunning in Hazaaron Khwaaishein Aisi, and HKA director Sudhir Mishra was producing the film. Ruchi Narain, his protégé, is being touted as a director to watch out for, and I was glad to sit back and do the watching.
I grinned, satisfied, as the opening credits rolled, a bunch of video clips giving way to drop-down menus innovatively displaying names of the crew. I approved warmly of Ruchi Narain, visibly hardcore Mac user, and felt satisfied when we rolled back to Chitrangda Singh bawling on a bed, her Powerbook lighting up her tear-stained face. This should be an interesting film, I assumed optimistically.
I was wrong; it fell flat.
| | |
| --- | --- |
| | More on rediff.com! |
| | |
Chitrangda plays Bhavna, a photographer with a lot of spare time. She and her close friends, we learn, don't believe in email, communicating instead by sending each other video recordings. The intimacy quotient of such missives is obviously much higher, and our masochistic Bhavna chooses to replay the bitterest flashbacks again and again, wallowing in bed with saline streams flooding her pretty cheeks.

Her life is quite a hole, as she lives in abstinence, mourning an affair ended many moons ago. She was madly in love with Tarun (Shiney Ahuja), a smooth money-hungry shark, who left her for her best friend, Maya (Smriti Mishra).

Post her traumatic double heartbreak, Bhavna is understandably still hung up over both Lost Friend and Lost Lover. After many a night of lonely video-weeping, she's finally taken the plunge and hooked up with Rohan (Ram Kapoor), a seemingly 'nice' guy.

The two return home and are on the verge of messy fondling, standing in the doorway of a bathroom that also happens to be a darkroom -- further evidencing Bhavna's kinkiness. Suddenly, Bhavna hears her name called and panics. They disengage, Zee Newsboy Rohan nervously on guard. The intruder is Tarun, drunk and devastated. He apologises, throws up, and passes out. Her first date in years is ruined. She wakes up in the morning to find the front door ajar, and Tarun asleep. She rushes off to work, and switches on the news to find that Maya, Tarun's wife, has been killed.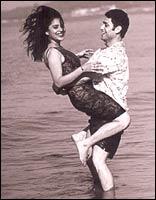 Now, the film turns into a twisty murder mystery, but refuses to let go of its troubled emotional tearjerker origins. The result is very half-baked, realistic dialogue and constantly compelling performances forced to stretch an unimpressive plot. The film needs to be taut, but rambles on, and Narain's helming skills aren't quite up to scratch yet.
Lots happens in the film, but while the first half concentrates lazily on character development -- which is also done rather repetitively, by the way -- the second half suddenly decides it's got a story to tell, and hurls unexpected shockers at you from every angle. The film's pacing is its biggest flaw, and the lack of speed brings out the audience yawns thick and fast, post-interval.
As said, the performances are pretty much spot-on. Chitrangda is a fine actress, and manages her Bewildered Bhavna quite all right. Smriti Mishra is avoidable, which is why we're half glad Maya's dead. Shiney Ahuja is perfect, and I just wish he had more to do. The ultimate applause, however, must go to the flawless Boman Irani, who hoodwinks chowkidars and regales old patriarchs with superb ease.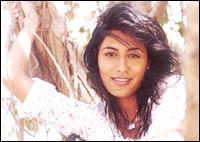 It's not a bad film, by any benchmark. The treatment is refreshingly lo-fi, minus the mostly overdone slickness omnipresent in Bollywood today. The music fits in well, and the acting is a top-notch ensemble, mostly well cast. We say mostly because it's hard to figure any man leaving Chitrangda for another woman, no matter how rich she may be. Still, lets overlook.
The narrative has tons of loopholes. The body isn't autopsied, witnesses and suspects club their nights away, the police seem oddly insignificant and obedient, nobody's really asking questions, and everything seems to hinge on speculative testimony. It makes you feel as if Ruchi's film is about her characters, and little details didn't matter enough. Which is upsetting, because it's a very real film in terms of dialogue, but that's about it.
As a director, Narain has definite potential. She works on sentiment well, and has the knack of making audiences empathise with her characters.
Now, if only she hadn't made a thriller in chick-flick skin.