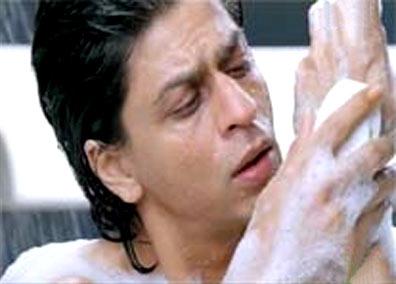 Shah Rukh Khan has no qualms about his Lux ad, which has raised many an eyebrow.
"Some people think it's a girlie ad and that it questions my sexuality. But I love the idea of getting into a tub, just as I had seen all my lovely leading ladies do," says the King Khan, about his latest endorsement: Lux.
"I can't help it," he says. "I just do my job. In fact, I've just done a Santro ad with Preity Zinta in Spain. That's why I couldn't be there for Karan Johar's mahurat in Mumbai. Besides, Preity needed to get to New York to shoot for Sajid Nadiadwala's Jaaneman. So I had to re-shuffle my dates and miss Karan's big day. A pity. But I visited his set at Film City (in Mumbai) earlier this week. Being on Karan's set seems like being at home."
SRK will be starring in Karan's Kabhi Alvida Na Kehna, along with a host of stars like Amitabh Bachchan, Rani Mukerji, Preity Zinta and Abhishek Bachchan.
Shah Rukh has made headlines for his Lux ad -- a first for a male celebrity. "Not true," SRK corrects. "Before me, Paul Newman had done the Lux ad. I wanted to get into the tub and not just stand outside watching a lady getting in. I guess that would've been a more predictable male perception of how the ad should have been done. But I wanted to do it the proper way. I don't know why it should be such a big deal."
The ad shows the actor in a bathtub.
After a pause, he says, "Actually, all my favourite heroines have done the ad. Lux has traditionally been considered a woman's soap. But I can't remember a time when it hasn't been a part of Indian households, for a male or female. I grew up watching those lovely ladies modelling for the soap. Now, I'm a part of it. Lux is now 75 years old, so there is a need to do something different with the product."
In a week's time, Shah Rukh will leave for New York for the shooting of Kabhi Alvidaa Na Kehna. "I have enjoyed this break from work, reading and playing with my children, being a house-bound dad for a change. Now, it's back to work."
And what happens to Farah Khan's Happy New Year? "I really don't where that fits in. After Karan's film, I go to Farhan Akhtar's Don in February 2006.
Text: Subhash K Jha