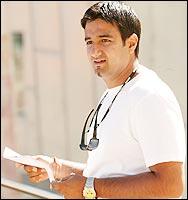 Siddharth Anand likes to call himself destiny's child because he's never had to struggle in his career.
At 27, he has already become the director of a Yash Raj production featuring big stars like Saif Ali Khan and Preity Zinta.
The director of Salaam Namaste chats with Ronjita Kulkarni about where he came from, and of course, about his new film.
How did you get into films?
I was in N M College (Narsee Monjee College, in Mumbai), and quite aimless in life. I enrolled myself for CA (chartered accountantancy), but didn't do it. Next, I enrolled myself for CS (company secretaryship), did six months and then dropped out. I applied at the University of Texas. I gave all the required exams and was all set to leave for Texas. But I backed out of that also.
My father was Bittu Anand, a producer. His last film was Amitabh Bachchan's Shahenshah. My grandfather was Indra Raj Anand, a prolific writer who wrote 120 films like Safar, Sangam and Ek Duje Ke Liye.
I was born and brought up in a film family. There were a lot of film discussions at home; my father's friends were from the industry. So I knew that I would do something related to films at some point.
Finally, I decided on direction. I joined Rahul Rawail for his film Kuch Khathi Kuch Meethi, starring Kajol. He was my father's close friend.
Adi (Aditya Chopra) and I had a common friend working in KKKM. At that time, Adi was looking for an assistant director for Mujhse Dosti Karogi. So this friend suggested my name. I met Adi and we chatted for about an hour. He asked me if I wanted to work for him, and I said yes immediately.
After that, I worked on Hum Tum. I co-wrote the script along with Kunal Kohli. I was the EP (executive producer) and associate director of that. I handled the film from very close quarters.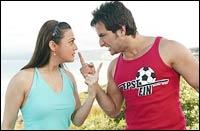 How did Salaam Namaste happen?
During Hum Tum, Adi and I would talk a lot about films. I told him about my views on films, and probably he got impressed and realised that I had some capabilities.
I started writing Salaam Namaste in February 2004 and finished it in September. I showed it to Adi and he liked it.
I don't have any formal training. I learnt on the job, when I worked as an AD (assistant director).
Did you face any difficulties, as a first-time director, like star tantrums?
Stars have a way to be dealt with. Every actor has his/her own set of problems and advantages. You have to come around them. You need to know how to explain a scene, take reactions from them. Every director should know how to deal with his actors.
I'm quite adept at managing a big production because Hum Tum was shot abroad. Salaam Namaste was on the same lines, with the usual set of shooting problems.
Tell us about Salaam Namaste.
Salaam Namaste is about this couple: Nick and Ambar. It starts when they meet each other, and shows them over a year -- how they go through life.
They come from India and settle down in Australia. They like each other and decide to live-in with each other because they have jobs restraints that don't give them enough time with each other. So they decide to spend more time by living in together. They pool in money to take a house, slowly fall in love, face problems etc.
I know a lot of people who live in together but they just don't talk about it openly. I'm not advocating it, it's their own indiscretion. But I hope it's not too forward that people reject it.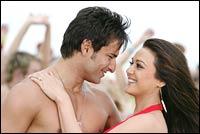 I think every film should push the boundary a bit so that we get something newer. It should not be the usual conflicts between the rich and poor, Hindu-Muslim…
Why did you choose Saif and Preity?
I worked very closely with Saif in Hum Tum, and wrote the script of Salaam Namaste with him in mind. If Saif hadn't done it, I would have had to take newcomers for the role.
Preity suited the role to the T after I finished writing it. Saif and Preity are like this in real life. I would have loved to have Rani (Mukerji) but Preity suited the role better.
Salaam Namaste seems to have a Hum Tum flavour.
It's the same world as Hum Tum but the characters and conflicts are different. The common thing between them is both have good-looking people, good music, good costumes…
Tell us about the shooting experience.
We were in Melbourne for about 100 days. We shot for about 75 days because Sunday was always a holiday. Every Sunday, we would either have a cricket match or go for a movie, or go shopping.
Why Melbourne?
I wanted to shoot somewhere where we had never shot earlier. Melbourne hasn't been explored earlier, so I chose that.
Why is the film called Salaam Namaste?
Salaam Namaste is the name of the radio station where Preity is a radio jockey. The film starts there, love story begins there and the culmination is also there. That's why the name.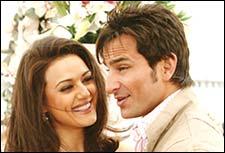 Tell us about the film's music.
There are only four songs in the film. No unnecessary songs like a sad song or item number.
Vishal-Shekhar have scored the music. I liked their music in Jhankaar Beats. I wanted to take someone who would be very keen to work on my film. They should feel that this is their life-and-death chance -- because it's mine. This is the first time they're making music for Yash Raj, so I know they would put in their best.
Tu jahan, writen by Jaideep Sahani, is my favourite song.
Tell us about the look of the film.
Mamta Anand, my wife, has done the look for Saif and Surily Goel has done the look for Preity. My brief to them was that the clothes must be very real. They must be the type that people wear everyday. But at the same time, they have to be very stylish. They must make a style statement and win the style awards of the year! So we sent them to Melbourne to shop for the outfits there in shops that are accessible to normal people. I didn't want designer stuff.
How did you meet Mamta?
We met on the sets of Mujhse Dosti Karogi and got married last year during the making of Hum Tum.
She's done styling for MTV, and has also worked in Karan Johar's Kal Ho Naa Ho. She's 28 years old.
Do people take you seriously, considering you're a director at only 27?
After someone like Adi has put in faith in you, people have to have faith in you.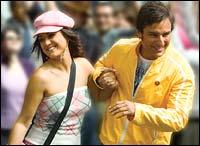 What kind of films do you like?
I like love stories, thrillers, action. I loved Dilwale Dulhania Le Jayenge and Prem Rog. Prem Rog is an encyclopedia on filmmaking: whether it's performances, dialogues, songs, screenplay.
I don't like to watch sci-fi and horror films. I don't like fantasy films like Lord Of The Rings and Star Wars.
Any childhood memories of going on the sets of Shahenshah?
I remember going to Ooty for the song, Jaane do jaane do, which had hot air balloons. I was very young then. The film released in 1988. Next, I came on the sets of Kuch Khatti Kuch Meethi. They were very different experiences. In Shahenshah, I was the producer's son and here I was the AD.
What will you do this Friday?
I'll be going to multiplex theatres and checking out the response. I'm very anxious.