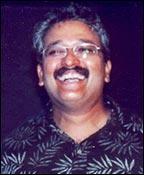 If he were still alive today, Fight Master Shetty would have been a proud man. Both his sons have managed to do what he always wanted to himself. They are now directors -- Rohit Shetty with Zameen, Hriday Shetty with Plan. But while Zameen did well, Hriday's plans failed at the box office.
It hasn't been a deterrent for him though, and he's back with Pyaar Mein Twist. Patcy N decided to meet him, armed with a few questions:
What is Pyaar Mein Twist all about?
It is a light romantic love story involving two mature people. Its USP is the fact that its stars have come together after 20 years.
Why was the name changed from Pal Tham Gaya?

Pal Tham Gaya was used as a working title because it was the name of a key theme song. Shailendra Singh suggested Pyaar Mein Twist because of a twist in the film's plot. We also wanted a title that would appeal to a younger audience.
Why did you decide on Rishi Kapoor and Dimple Kapadia?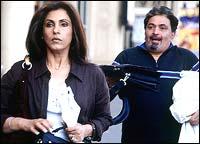 I don't think anyone else could have pulled it off. We needed two people who, despite their age, would still look young and connect with the youth. They agreed to do it solely on the merit of the script. Neither had done this kind of role before, so it was a challenge for them. They were also happy to working with each other.
What was it like directing Soha Ali and Sameer Dattani?

I am good with youngsters. These new kids have amazing energy levels and really want to work hard. They knew they would be playing supporting roles to Rishi and Dimple, but they played them effortlessly. It is always good to work with people like that who have no hang-ups.
How did you get Spice girl Emma Bunton in?

She was on a tour in India with the BBC and wanted a small role in an Indian film. There were three films offered to her and she picked this one, I don't know why. She is a part of an engagement ceremony song because she wanted to wear an Indian outfit. And no, it is not an item number.
How did you get this film and script?

Sunil Shejwani of Percept had seen my earlier film. They had a concept, and he suggested my name to Sahara Percept. They gave me a two-line story.  I jumped on it because it was a challenge. I took it to the writer of the film, Sushma Ahuja. It is, incidentally, her first Hindi feature film. We went to Khandala's Amby Valley, developed the concept and screenplay and narrated it to the producers. They loved it.
Is there any anecdote related to the shooting that you would like to share?

Whenever we shot with Rishi and Dimple, we would sit back and listen to them share memories of working together in the past. They are very fond of each other and that chemistry shows on screen. While in Mumbai, Dimple would always get everyone food from her house. It was like a family.
As for Chintu Saheb (Rishi), he is amazing after a wrap-up.  He has a couple of drinks and is like a teddy bear. When we were shooting in Mauritius, he had this habit of checking out where the best Chinese restaurants were. We found one called Hong Kong Palace and went there one evening. He kept calling the waiters different names â€" Shambhu or Dindayal or something else. We assumed he knew them, but he didn't. They just kept coming, irrespective of what he called them. When I asked him about it, he said this is what Yash Chopra used to do, as he didn't know the names of any waiters. Now, I have gotten into the habit as well.

How different is the movie from Baghban?

A lot of people ask me that, but Pyaar Mein Twist is completely unlike Baghban. The latter was a take on an earlier film called Avtaar, starring Rajesh Khanna and Shabana Azmi. It dealt with the same old story about children getting older and not appreciating their parents. This film has nothing to do with a topic like that.
What about your next movie, Daag?

We shot for a few days a year ago, but there was a problem with the producer and financer, so it has been shelved.
What do you think went wrong with Plan?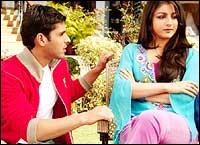 I think there was a lot of creative interference in the making of the film. By the time it was complete, it wasn't my film anymore. The first draft kept changing and went haywire. There was interference from the producer because he wanted to sell the film. Also, I was new at the time and succumbed to pressure. After Plan, I was not ready to do just anything. I wanted to work on a great script. I wanted to do a film on my terms.
What message would you like to give your audience?

I would like to tell my audience not to miss the film as there is a solid message that comes through. I think every youth should watch it because it tells them a little about life in one's forties.
Do you discuss your films with your brother?

No, we are completely different people. He has his own thoughts and ideas. We don't even ask each other about our films or take each other's help. But I am happy for him. He is doing well.
You must have fond memories of your father...

My love for the profession began when I was growing up. I was at Father Agnel's Technical School in Bandra and, on weekends off, I would go with my father to the studio. I knew there was somebody working above dad -- the director -- and I wanted to be that man. I still remember my dad throwing me out of a ten-storey building, for a shot. He always assumed I would enter the same field, although he didn't want any of us too. He had struggled a lot.
My sister and I are now writing a book on him called The Unsung Hero. His was an amazing journey. He has been the sole source of inspiration in my life. Dad started as a waiter at an Udipi restaurant. He was the uncrowned king of his area of work -- no other fight director has seen the success he has. At one time, he had 32 films on the floor. He was a very down-to-earth person. His one dream was to direct a film. We still have that script at home. It was a film on social awareness and written in the 70s. Times have changed, but the idea was still a good one.
For the moment, we are concentrating on the book. We want the younger generation to know about him. Publishing will take over a year, as we are meeting the producers, directors and actors like Shammi Kapoor and Dharmendra who were associated with him.
What are your future plans?

I have one script ready and am hoping to make it with a different set of actors. Percept Sahara has also signed me for their next film, but we yet to decide on the script or actors.