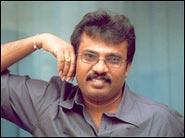 One of the most eagerly awaited films this Diwali is Sivakasi, starring Vijay. Director Perarasu, he appeared relaxed, unusual for a man of whom so much is expected. But it is more so because the Vijay-Perarasu combination has had a huge hit in their last venture, Thirupachi. He
spoke to
Shobha Warrier
.
Your debut film was a huge hit. Your second film is also with Vijay. Are you under any pressure?
No. Even when I was directing my first film, I was relaxed. I knew that the story and sentiments in Thirupachi would be liked by people, especially women. It was a commercial film but the story was such that it attracted women in large numbers. Unless I used emotion and sentiments, I knew women would not come to watch an action-oriented commercial film. And unless women come in large numbers, a film will not be a hit.
Almost all Vijay's films have a set of commercial ingredients, and Thirupachi was no exception. When you wrote the script of Thirupachi and Sivakasi, did you have Vijay in mind?
When I wrote the script of my first film Thirupachi, I did not have Vijay in mind. Later, when I knew that it was Vijay who was going to do Thirupachi, I wrote dialogues that would suit him. Otherwise, the hero could have been Vikram or Ajith or anybody.
If you see Sivakasi, you will know that it's not the typical Vijay film. Any hero can do Sivakasi. Only the dialogues are specially written for Vijay. Plus, I added humorous scenes because he is good at comedy. But my strength is sentiments and not action.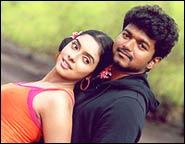 How different will Sivakasi be from Thirupachi?
If Thirupachi was on the brother-sister relationship, in Sivakasi, you will see a strong mother-son relationship. The film's message is that while a mother carries her child for nine months in her womb, the son should carry her in his heart till his death. People are normally attached to their mothers, when they are fed and cared for as babies, but neglect them when they need them in their old age. It's not fiction; I have seen a friend of mine do this. It hurt me so badly.
So, the mother in Sivakasi must be a very important character?
Yes, I wanted a new 'mother' for Sivakasi. Finally, I thought why not Geetha, who looks so gorgeous and homely.
She has not acted as a mother in any film so far. How did you convince her?
What she asked me why I wanted to make her an old mother, I asked her to listen to the story and then decide. She was bowled over by the story, and agreed immediately.
Did you make her look old with grey hair, wrinkles, etc?
A little grey hair here and there. She has to look like Vijay's mother! Another thing is, her complexion glows which we had to make a little dull.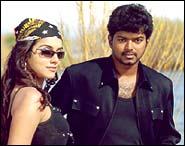 A film is a director's product but in the commercial circuit except for perhaps Shankar's and Mani Ratnam's films, all others are labelled as the heroes' films. Now, the Diwali releases are publicised as Vijay's film, Vikram's film etc. Don't you feel this is unfair on directors?
Yes, my film Sivakasi is referred to as Vijay's film. It will take time for me to reach that level. But you should remember, whatever I am today, it's because of Vijay. Only after I give at least 5 to 6 hits, will people start describing my film as Perarasu's film, and not by the actor's name. My ambition is to reach that position. Once I do that, I will make films that I want to.
What is the kind of film that you want to make?
My strength is showing human emotions and sentiments. So, my film will have only human emotions, and not other commercial ingredients like fights, songs, etc.
My film should touch the hearts of all people. Only such films last.
I have lots of such emotional love stories with me, which can be made into commercial films. Producers want only commercial ventures. Even today, I love Mani Ratnam's Mouna Raagam, Antha Ezhu Naalkal, Cheran's Porkalam and Thankar Bachan's Azhagi.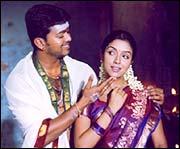 How was Asin, your heroine in Sivakasi?
Asin is a very good and dedicated artiste. Everyday, after pack up, she would ask me what her scenes and dialogues were the next day. She would then collect her dialogues and come prepared the next day. Such dedicated artistes are very rare to find these days.
She has a great sense of humour. She has an equal number of humorous scenes with Vijay, and she has matched him in timing and humour.
On the first day of the release of Sivakasi, where will you be?
I will be in a theatre watching the reaction of the people.
Photogragh of Perarasu: Sreeram Selvaraj