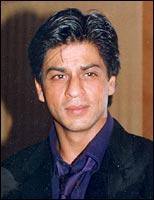 Towards the middle of The Outer World of Shah Rukh Khan -- the second of the two reflective and moving documentaries directed by British Indian filmmaker and writer, Nasreen Munni Kabir -- the Bollywood star states: 'There are three people in me: A person, an actor and a star. I try to keep as much in touch with reality as I can. Try to remember what the star did, what the actor did and what I did. Most people I know become so schizophrenic, they forget.'
Kabir's two films, The Inner World of Shah Rukh Khan (produced for Britain's Channel 4) and The Outer World of Shah Rukh Khan (produced for Khan's Red Chillies International), do exactly that -- show how Khan lives in three worlds at all times, trying to keep a balance, his sanity and also staying rooted to reality. The DVDs of both films were released last week in the US by Eros Entertainment.
Kabir first shot The Inner World, while Khan was working on Farah Khan's Main Hoon Na. Then, last year, she followed Khan, along with stars like Rani Mukerji, Preity Zinta, Saif Ali Khan and Arjun Rampal, as they performed at the Temptations show in different cities in the UK and US. That journey became The Outer World.
Most fans of Khan -- like the screaming crowds that lined up in the cold wet night of October 13 in Jackson Heights, Queens to witness the launch of the DVDs -- only imagine and fantasise about the characters Khan projects on screen -- often that of a romantic hero in films like Dilwale Dulhaniya Le Jayenge, Kuch Kuch Hota Hai, or Kal Ho Naa Ho. "Everyone cried in Kal Ho Naa Ho, when he died," said 14 year-old Shamita Rahman, a fan who had the misfortune of not being able to meet her favourite star. But in Kabir's films, we get a rare in-depth profile of Khan, the person, who opens up about his life and speaks extremely frankly before the camera. Kabir and her cinematographer, Peter Chappell, become psychotherapists for Khan and the actor -- bright and articulate -- shows his humble and vulnerable side.
It is often touching and very moving, especially when Khan repeatedly brings up the memory of his late parents, a loss that he has not been able to fully recover from. "The only cure for sadness," Khan says, "is to keep working."
"It is the only way for me to avoid depression," he adds, not shying away from speaking about his older sister who suffers from depression perhaps due to the death of her parents.
The access that Kabir got doesn't end there. Towards the beginning of The Inner World, we watch Khan as he gets treatment for his neck and back pain at Dr Ali Irani's clinic in Mumbai, or when he has an aura healer visit him at home. Khan lives with constant neck and back pain, a reminder that even big celebrities do not have a perfect life.
Large parts of The Outer World are set in the green rooms of convention centers and sports arenas in the UK and US. Khan is often shown in various stages of undressing (though when he has to change his pants, he walks into a private bathroom), rushing from one act to another, sweating, often breathless, but always energised by the hysterical screaming of fans. (As compared to that, the camera at one time catches a glimpse of a bare-chested Rampal, in Khan's green room. "No, do not shoot me," Rampal says, as he hurriedly tries to cover his partial nakedness.)
"Live stage makes me feel like a star," Khan says. "The first time I appeared before 20,000 screaming fans, I felt like I was the biggest star in the universe."
Of the two films, The Inner World works better. The film has some amazing quiet moments such as when Khan visits St Columba's, the Catholic missionary private school he attended in New Delhi. The camera follows Khan in a private moment when he prays in the school's cathedral. He gets teary eyed as he reflects on that experience. Later, Khan visits his parents' graves. At all times during this trip to New Delhi, Khan is surrounded by fans who ask for autographs.
Despite all the fame, money and awards, the trip to the city of his childhood and teenage years also reminds Khan about the simpler days when he didn't have to live with the exterior façade of being a star. He misses connecting with people who knew him before he became Bollywood's biggest star, he tells Kabir.
Bollywood stars live in a plastic world, which on the surface seems glamorous and compelling. But their lives are often messy. The media and fans thrive on stories of the arrogance of some stars -- of drug addiction, guns and underworld connections, allegations of physical abuse of female co-stars and killings of homeless people and endangered animals.
In the midst of this, Kabir's documentaries take us inside the world of Khan -- a solid human being ("Bahut sharif aadmi hai," Kabir recently said about Khan). His main concern is to build a secure life for his wife, his two children and his sister, so they do not have to face loss and hardship as he did, when he was younger.