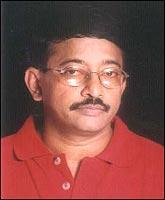 Director Ram Gopal Varma doesn't believe in playing by the rules. As his 'different' films generally fail to leave an impact on the box office, financiers Sahara India stayed away from renewing their film deal with RGV.
But now the director has a new deal in place, a sensational Rs 100-crore tie-up with Reliance. Here are snippets from a conversation with Subhash K Jha.
So now you've gone into collaboration with Mr Anil Ambani?
No, I have nothing to do with him directly. It's Manmohan Shetty of Adlabs whom I've negotiated with. I've known him for a long time. He's one of the most prominent film personalities and heavily clued into cinema.
On a creative and corporate level, it's an ideal partnership. Today, the entertainment medium has become so powerful. The shelf life of a specific film has decreased while the number of films required to fill multiplex cinemas has increased. We need much larger quantities of software. Hence, we need a larger number of films to keep the industry going. Our idea is to channelise and corporatise the filmmaking process both financially and creatively.
| | |
| --- | --- |
| | More on rediff.com ! |
| | |
What kind of films will you make in partnership with Adlabs?
See, films will be just a small part of our partnership. Initially, we've identified ideas for 20 feature films. But eventually, this partnership is not just about films but the entire spectrum of popular entetainment, from television to music -- anything that entertains people. We've already designed some of these sources of entertainment. The rest is being worked out. We've just started working our business modalities. We've been in discussion for nearly six months.The intention is to grow as rapidly as possible.
But as a filmmaker, won't films therefore have to be the pivotal part of the partnership?
That would be the strategic buildup. I'll take care of the creative part of filmmaking while Mr Shetty's experience in exhibition will go into marketing. But eventually we'll have to work much more closely. Today, filmmaking isn't just about shooting and releasing. You've to structure the marketing of a film.
What sort of changes will this collaboration require from production house, Factory?
We need to get much more disciplined if we intend to achieve the target that we're looking at. We may not be making the 'Ram Gopal Varma' kind of cinema any longer. There will be a panel of people to decide what kind of films we make. I may not be allowed to be that whimsical any longer. For the first time, I'll have to be accountable about my creativity. I'll have to check back with my collaborators as to why I decide what to do. One has to be conscious not just of one's own creativity but what's required in the market. That's where my new partners might came in. Eventually we're selling feelings, not tangible products, and we can never be sure.
What motivated you towards this partnership?
The idea is to scale up my creative and business prospects as high as possible, and to do it as fast as possible.
When would the first feature film from the tie-up occur?
We're looking at two-three projects. The first should be ready in early 2006. Considering a few films here and there is too narrow a view of what we're doing here. Our big idea is to make a series of entertainment-related products. Otherwise, why have such a big idea-collaboration anyway? I think it's time to start seriously segmenting popular entertainment in this country.
How will this partnership change you professionally?
I see myself as more of a business man now. Though everything, including my own directorial project, Sholay is on.