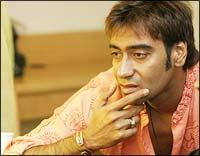 Crisp, no nonsense and focused. That's Ajay Devgan for you.
Even when he chatted with rediff.com readers, the Bollywood star admitted he was media-shy.
But that didn't stop him from enthralling his audience as he took on all kinds of questions from his new film Apaharan to the way he proposed to his wife Kajol.
For those who missed the excitement on November 28, here's the first part of the chat transcript. Don't miss the second part tommorow, on November 30.
Ajay Devgan : Hi guys, thank you for logging in, I'll be chatting with you for the next hour

---
polly : Hi Ajay! Do you consciously try to be different from the other actors?
Ajay Devgan : no i dont try to differnt from other actors but i try to do different things so that i dont repeat myself

---
Deepak : Hey Ajay,How r u?
Ajay Devgan : fine thank u
---
pankti desai : hi ..ajay,,i like your all movies..you are working very well
Ajay Devgan : Thank you
---
hihello : Hi Ajay, who are your favourite actors and actresses - in india and abroad?
Ajay Devgan : Mr Bachchan
---
Nikhil : Hello Ajay - any future plans of working with Kajol?
Ajay Devgan : nothing planned as yet
---
sudhi : How was it working with Nanapatekar in Aprahan?
Ajay Devgan : Great actor and a chilled out person
---
Ray : HEY AJAY... YOU HAVE BEEN REALLY GOOD IN ACTION, DRAMA, ROMANCE, ETC. HAVE YOU THOUGHT ABOUT ENACTING IN ANY COMEDY ROLE?
Ajay Devgan : I am doing two comedy films, one is Golmal and the one is untitled as yet
---
vikas : Hi Ajay..which are your forthcoming movies?
Ajay Devgan : Apaharan and Shikhar is releasing and doing films Ram Gopal Verma and Raj Kumar Santoshi and Vishal Bhardwaj
---
bond : hey Ajay!!! u've got amazing eyes...which suits u best for cop roles or characters like in company, kaal..hope to c lot more of such kind..
Ajay Devgan : Thank you
---
Savi : ajay whats the meaning of ur daughters name
Ajay Devgan : named after a greek goddess of purity
---
kUNDANmISHRA : I can ask you only one thing, where you find yourself since Phool Aur Kante to Gangajal? Which is the thing you found is constant around you?
Ajay Devgan : Im happy where i m and i am happy what is constant is my confidence
---
raman : what is the defination of sucess according 2 u
Ajay Devgan : I think it varies from person to person, it depends what makes u happy
---
vikrish : Do you think smoking and drinking in films will influence youngsters (in view of new verdict from court!)?
Ajay Devgan : I m not sure but i think there should be some kind of freedom of expression
---
Sudhiqixo : Tell me something about your movie..."Shikhar"
Ajay Devgan : I would like if u watch it and figure it out for yourself
---
Zedem : what was your inspiration for the character in Company
Ajay Devgan : I think the director because he was very clear what he wanted me to do
---
mayank : how you propose kajol ?
Ajay Devgan : It is very personal
---
aaneel : How does it feel to be a Star?
Ajay Devgan : Still figuring it out
---
Chandresh : Hi Ajay, I have noticed that you don't attend award functions. Why? I hope We will see you receiving best actor award for Apaharan.
Ajay Devgan : I think the biggest award for me is the appreciation from the audience
---
Saurav : Hi Ajay! I think gangajal was one of ur greatest perfomances! Is Apharan also going to be something in those lines
Ajay Devgan : It is different from Gangajal and i hope u guys like it
---
kush_sh@rediffmail.com : ajay plz answer meplz tellme how u spend a time
Ajay Devgan : at the moment, Chatting with you guys
---
Ahmad : I am a big fan of u
Ajay Devgan : Thank you
---
dinesh_tutu01@rediffmail.com : hi ajay, how is your married life.
Ajay Devgan : VERY HAPPY
---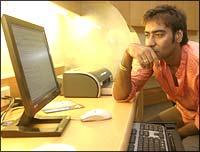 Kanishk : hi ajay, which actor (of course apart from u) and actress do u think is the best in business currently?
Ajay Devgan : I think everyone is doing well and everyone is doing well in their jobs
---
Adi : who is your idol Ajay?
Ajay Devgan : Nobody
---
rahul_gjrl : hi ajay,i suppose u would have heard about this tamil movie kaakha kaakha with surya as a cop,it has been remade in other languages too,u will look best in it,if it is made in the hindi version,r there chances for u going fot tat role?
Ajay Devgan : not heard of it, but if u say i will try and see it
---
user123 : Which do u think has been ur best performance?
Ajay Devgan : I hope it is yet to come
---
narenkraj@rediffmail.com : Hi Ajay!, Do you think the silly Ads you made for Tataindicom really suits your image, onscreen and off-screen?
Ajay Devgan : I dont believe in image as long as there is some kind of performance in it
---
aashishs : Are you Honest to your Profession or Loyal??
Ajay Devgan : I try my best to be honest and loyal
---
dharmendrasharma : sir u wre the greatest actor ...i am the biggest fan of yours i have seen all your films..i liked you in Tarzaan too
Ajay Devgan : Thank you
---
Sarath : who is the director of Golmal???
Ajay Devgan : Rohit Shetty who made Zameen
---
sathyaprakash : Ajay, have u seen any recent movie of any of ur coleagues....
Ajay Devgan : Not since a while
---
fatim1984 : how is kajol......which r ur forthcoming movies.......tell me what is your favourite hobby???....-fatima
Ajay Devgan : Right now spending with my daughter
---
bhola12 : Hi Ajay, do you enjoy doing negative roles or you just do them as a part of the changing movie traditions, where artists should have no limits in roles?
Ajay Devgan : I think the whole hero system has changed and it is more character based, if I like the character I go ahead and do it
---
manish1 : Is working with Prakash jha with bihar subject challenge
Ajay Devgan : Yes with a director like Prakash Jha and a script like this it is challenging
---
akashk : Which movie role has given you the most satisfaction?
Ajay Devgan : Every role u put in maximum effort and some r appreciated and some are not
---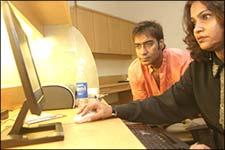 smarajit : how do rate SHAH RUKH KHAN as an actor? And how was he as a producer (Kaal)? Do you have a personal equation with him (positive or negative) considering Kajol is a close friend of his?
Ajay Devgan : I think he is a great producer and an actor and everyone knows it
---
aby1979 : What advise do you give new filmmakers to keep in mind if they get a chance to make a film. Secondly if one wants to make a film on DV is there a market in multiplexes.
Ajay Devgan : I m not a pro to give anybody advice,I need advice myself
---
Giga : hi ajay, u palyed a marvellous role in bhagat singh.. is there any near plan to do like that again.. i mean historic characters..
Ajay Devgan : Not yet
---
Seoulsoul : Hi Ajay, this is seoulsoul from the it seems your or in the industry is not good, have you hired a pr comp for you, Is it a bad question?
Ajay Devgan : I did not understand the question
---
great : how is your life after ur baby??
Ajay Devgan : I think it is great
---
feelsanjay : bachelor life is better or married life
Ajay Devgan : Still figuring that out, but both has its plus and minus points
---
chilaka : Hi Ajay, I'm a great fan of u. After watching Hum Dil De Chuke Sanam i decided not to miss any movie of urs
Ajay Devgan : Thank you
---
shiva_gg : ajay do you have any plans acting in tamil movies
Ajay Devgan : None as yet.
---
Sarab_magma : Hi Ajay..U r awsome.Gangajal,company..and the list continues with ur mindblowing performances..U have matured immensly ,how have u metamorphorized into such a brilliant actor.
Ajay Devgan : I think its the right director and the right script, I give them full credit
Don't miss the second part of the chat tommorow!
Photographs: Jewella C Miranda