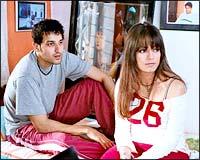 The Film could not have been better timed. Just when Mumbai is agog with Abu Salem's extradition from Portugal and how he exercised his sway over Bollywood, director Junaid Memon plays around with the theme of the underworld's role (Salem becomes Shamim Bhai in his script) in the Hindi film industry and interlaces it nicely with dreams and aspirations of a group of seven struggling hard to get a toehold in filmdom.
There is a certain familiarity about The Film that instantly draws you to it. It deals with a plot done to death -- strugglers who want to make it big in Bollywood. Credit goes to the director for creating good cinema out of a simple plot and not-so-great cast. Memon, it seems, has guts. Or else, how could he paint characters like filmmaker K K Dutta and diamond merchant-cum-producer Sharat Shah?
| | |
| --- | --- |
| | More on rediff.com! |
| | |
The film delineates the relentless struggle of seven bright minds -- Sushmita (Mahima Chaudhry), Vivek (Khaled Siddiqui), Aditya (Vaibhav Jhalani), Ankita (Chaahat Khanna), Raman (Ravi Gosain), Irrfan (Vivek Madan) and Nandini (Ananya Khare). One can't help sympathising with them as Bollywood almost tramples their dreams. Though they have their backs against the wall, they can't get rid of the pang of making a film. Bollywood's indifference has made them realise that, to realise their dream, they need to turn financiers themselves. But how will they get the money? Watch it for an answer.

Through cleverly drawn sequences and situations rich in suspense, the director successfully portrays all-too-familiar tenets of Bollywood -- its closed-door approach to newcomers, its lack of sympathy, opportunism, exploitation and, of course, the casting couch.

Having entered Bollywood at 20, Memon, it seems, has seen it all. No wonder his characters are unabashedly real. In fact, as a black overall-clad music director, opulently adorned with gold jewellery, mouthing Bengali-accented Hindi, expresses his desire to be intimate with the singing sensation-to be Ananya Khare, it won't take you a second to realise who the director takes a dig at. Memon does well to drop big names like Subhash Ghai and A R Rahman that add the icing to this well-baked cake.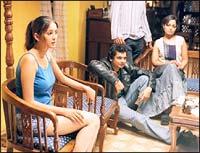 The Film is marked by down-to-earth performances in keeping with its simple theme. Like in Madhur Bhandarkar's Chandni Bar, Ananya Khare impresses with her cameo. Veteran Sulabha Deshpande as Aunt Braganza proves once again that age has not withered but sharpened her acting abilities.
Mahima is the only one whose effort at acting falls flat. Her wooden face simply fails to emote, so much so that it almost gives the film's unpredictable ending away. A taut script, however, comes to her rescue.
An overall neat screenplay falters at times. Mostly shot indoors, the film does not leave much scope for cinematographer Ayhan Ghanim. Art director Mantu Mahapatra leaves his mark in creating a cosy home for Aunt Braganza and her paying guests.
Though the film fails to maintain its racy pace in the second half, it succeeds in retaining the audience's interest till the end. Unlike most small banner films, The Film proves to be a well thought-out product, which does its job of providing entertainment to perfection.
A laudable effort.