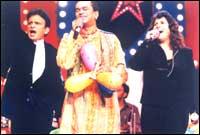 In a few weeks, I will be 50," Annu Kapoor says with a chuckle, "But when you see me on my show Antakshari, I am like a child."
Some people may tell him he is childish, over emoting. "I am being myself," he asserts. "And the audience loves it. It is certainly not easy to be child-like. But the transformation is a very natural thing for me." He is responding to a question by a journalist who has seen him in films such as Mrinal Sen's Kandhar (1984) and Rituparno Ghosh's Raincoat (2004), and wants to know how he can be so restrained on one hand and melodramatic on the other. He also acted with Smita Patil in a telefilm Satyajit Ray directed over two decades ago, he reminds the journalist.
Though he has acted in many mainstream films, such as the recent Aitraaz, viewers remember Annu for his restrained performances in films by such directors as Shyam Benegal who gave him a break in Mandi 22 years ago. But as the host of Antakshari, he is often melodramatic. He cried on camera once while singing the Manna Dey classic, Yeh mere pyare watan composed by Salil Choudhury for the film Kabuliwala. But he can also be very funny and flamboyant.
"In the films, I am limited by the role and what the directors want me to do," says Kapoor, who has been in more than 50 films with directors ranging from Sen to Priyardarshan. "I am a professional and I give what a director wants. But when I am doing Antakshari, I tell myself I have no limitations. I cry, laugh, dance and emote without reservation. I am not afraid of anything."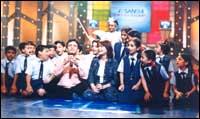 The host of one of the most popular TV shows, Antakshari, which went off air in India recently, Kapoor has been delighting audiences across the globe for over 12 years. He is currently in New York, getting ready for two shows that will be broadcast live. The New Jersey and New York shows on November 26 and 27 follow shows in San Jose, Seattle, Richmond, Atlanta and Chicago that were seen by about 10,000 people. The final show in North America will be in Toronto on December 4.
He is highly charged, he confesses, as he does the interview following the Chicago show. "I have had a very good response wherever I have gone this time," he says. "Over the years, I have never ceased to be surprised by the love and fascination people abroad have for shows like Antakshari. They have the taste for great songs etched very deeply in their souls."
He adds that the Antakshari shows are about much more than getting people to show off their musical talent or knowledge."I use them to honor the finest music composers and lyricists in our movie industry," he says. "I sing some of their best songs. And I remind the audience how these men have composed gems."
He never uses the word Bollywood when he talks of the film industry in Mumbai. "It is a derogatory word," he says, with his voice sounding hoarse. "I don't know who started using it. Our finest lyricists, composers, artists and directors have worked very hard to create our own kind of films, and I don't know why our industry should be called Bollywood. Call it the Hindi film industry or Mumbai film industry. On my show, I have always tried to highlight the work of lyricists such as Sahir, Majrooh, Shailendra, Neeraj, Prem Dhawan, Kaifi Azmi and Bharat Vyas," he continues. "I do not have any inclination to fuss over people who wrote silly lyrics or composers who could not come up with original tunes. They have other shows to go to."
One of the key reasons he continues to enjoy conducting Antakshari at show after show is because he feels he gets an opportunity to highlight songs that are not often remembered. "Many of these songs are part of our cultural heritage," he asserts. In paying homage to songs from a film such as Pyaasa, he says, he is merely trying to remind the listeners and viewers about the longevity of such songs as Jaane woh…"At the same time, there are beautiful songs that may have been forgotten. I feel the urge to celebrate those songs, too."
But what happens when a participant picks up a bad composition? "I keep praying it won't happen," he says, adding that he cannot be dictatorial about other people's taste. "But participants often surprise me, not only by their vocal talent and knowledge of music but also by their taste."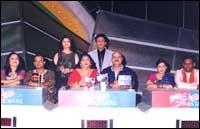 As far as his acting goes, he has, over the years, trained himself to be very choosy. He might have made a few mistakes picking bad films, he says, but he is never in a hurry to sign a film now. "I have a couple in hand," he says. "I don't feel insecure. If good directors don't offer me challenging parts, I let things go. I don't despair and take on any film that comes my way."
The same philosophy governs his taste in music. "The songs must have great quality," he says, referring to a classical Lata Mangeshkar number that R D Burman had composed for his first film, Chote Nawab. "How many people remember that song?" he asks. "To me, it is an evergreen. It is a song that also shows the abundance of talent Burman possessed."
He admires a number of composers, ranging from S D Burman to Shankar-Jaikishen, Jaidev to Madan Mohan. He admirers O P Nayyar's compositions in Kashmir Ki Kali, particularly the number Deewana hua badal. "Contestants have never failed to sing this number well," he says. "They get S H Bihari's words right and also the complex tune. It is a kind of small miracle."
Two composers close to his heart are Burman and Chitragupt. Mention some of Burman's best songs in Pyasa and Prem Pujari, and Kapoor starts singing them immediately. "Phoolon ke rang Se was an excellent song," he says referring to the Kishore Kumar number in Prem Pujari. "But there is an even better one," he continues, singing the film's theme song. "Burman had a unique voice. I doubt anyone can sing as well as he did."
At the end of each Antakshari, many people stay back to thank him. "You have made a singer out of us," is a common refrain. He tells them to be grateful to the lyricists, composers and singers who are the true inspiration. But for them, he says, the contestants wouldn't be there. And neither would his show. 
NRI Antakshari
New Jersey
November 26, Saturday, 8pm
New Jersey State Theatre
State Theatre
15 Livingston Ave,
New Brunswick, NJ 08901
Contact: Nu Creations
(732) 516-9000
contact@nucreations.com
Kishore Dadlaney
(908) -720-7228
info@video-sound.com
Georgy Bhaala
(732) 939-9900
New York
November 27, Sunday, 7pm
Venue Colden Center,
Queens College
65-30 Kissena Blvd
New York, NY
(917) 861-9008