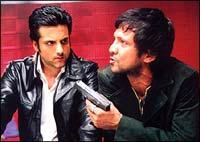 It's a tricky word, homage.
To start with, we always pronounced it the good old-fashioned home-age, until Quentin Tarantino came along with his unashamedly borrowed Kill Bill films, and movie critics around the world began bandying the H word around, and we now suddenly say it in convoluted European vein, home-aazhj (like in ménage or reportage).
But saying Homage isn't the most slippery part; pulling one off is.
Suparn Verma's directorial debut, Ek Khiladi Ek Haseena, is a racy affair, a rampant rush through the motion picture moments that the young director has fallen in love with, and pretty much everything is an in-joke, a nod to another movie, another scene, another character. In current times, when blockbuster cinema is often subversive and we love cross-referencing (the more complex the better), this sounds good. At least, on paper.
| | |
| --- | --- |
| | More on rediff.com ! |
| | |
Contrary to popular belief, this is not a comedy. The characters populating EKEH's dark universe are shadowy, indistinct and certainly blacker than grey. Which is no surprise since they are culled from caper films and noir (a film genre involving hardboiled characters in unwelcoming settings, named from the French roman noir: black novel) classics that the director as always worshipped. Which raises the crucial question of originality.

There's a very fine line between paying an obvious tribute and trying to lift a scene, and as you watch EKEH, you can't help but feel -- during some of those many moments of déjà vu -- that the director has succumbed to the urge to copy. There are entire sequences, the kind of things that drive forth the narrative, picked up directly from other films, and that's a bit of a no-no. If not anything else, Verma needs to send Ridley Scott a fruit-basket for Matchstick Men.

Anyway, the film is about Arjun (Fardeen Khan) a con-man who always has a plan, no matter the contingency. As his best buddy Rohit (Rohit Roy) gets killed, he finds himself plunged in debt against feared gangster Sikander (Gulshan Grover). In typically Guy Ritchie-esque (Lock, Stock & Two Smoking Barrels, Snatch) fashion, Arjun assembles an eclectic bunch of fellow scamsters (Kay Kay, Amin Hajee, Mukul Dev), and sets out for a big job -- 25 days, 25 crores, it is announced in rather Gone In 60 Seconds fashion -- with the biggest target of them all, Jahangir Khan (Feroz Khan).

Oh, and then there's the girl. In the middle of this tale of deceit, skullduggery and double-crossing with a faint Bryan Singer (The Usual Suspects) aftertaste, Koena Mitra plays Natasha, a psychiatrist with a wardrobe that would make you want to go see the shrink, entangled in the middle of it all.

EKEH is fast, pacy and the script is consistently snappy. This is a slickly made ride, with occasionally ingenious plotting and some deft dialogue touches, best seen during Fardeen Khan's narration running through the movie. In terms of its genre, it's a smarter film than most of its Bollywood brethren. A few moments in the film take you by genuine surprise, and you really don't notice the time as the crisp film runs taut throughout.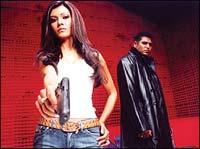 Like Rakesh Mehra's Aks, it's a commendable effort -- heavily derivative but rather interesting, only tragically dumbed-down in several ways. As a first-time director, Verma has sidestepped the predictability pitfall, and that's a big deal indeed.
It's a film with killer potential, but the cast lets it tragically down. EKEH is a Fardeen Khan film, a movie where he is Arjun, überdude, and present in pretty much every single frame. As a smooth shark in a suit, he's great -- but only for the kind of shots that involve sunglasses and strides, cigarettes and charisma. He looks unruffled, until he needs to act. Shots involving actual conversation are a stretch, and while he looks believable sipping at a drink, he isn't credible as a tough, no-nonsense guy.
And then there's Koena, at which point we must ask the director: Why? The woman (can we please not call her an actress?) painfully goes through the motions, inspiring neither sympathy, warmth or lust -- even as the director executes a very well-handled, steamy masterpiece in song. Good lines pass unnoticed through her lips, and there is no sense of timing, no thawing of expression. The belle may make, if you say, a magazine cover, but it takes more than a cardboard cutout to handle this film. Natasha is a severely nuanced character; Koena needs to revert to item numbers.
Kay Kay, one of the few actors you like despite the films he's in, predictably delivers but seems wasted in a role that doesn't rise as much as you want it to. Damn, he should have played the lead. Rohit Roy is affable as Rohit, Arjun's friendly fraud partner, but after he dies, the rest of the ensemble leaves us wanting more. Amin Hajee does a fine job whistling through his performance, but Mukul Dev -- armed with the best lines in the film -- is tremendously miscast.
Gulshan Grover is typically 'bad man', just with a pinch of sophistication and the sartorial taste of a pimp. Not bad, but nothing great.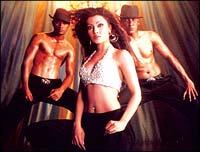 The man of the film is Feroz Khan, and he rocks. Jahangir Khan is a flamboyant, flirtatious banker and overlord, and he carries off the oddball, over-the-top role with tremendous gusto, managing to easily handle what Amitabh Bachchan couldn't in Kaizad Gustad's disastrous Boom. A nice scene in the film features father and son in an elevator together, and exposes the massive gulf between Authentic Cool and Armani Cool.
Perhaps because of the lack of the right actors, the characters in the film don't become full-blooded enough for us to actually care about them. As a result, even as the script goes around in twisty circles, we aren't ever caught up on the rollercoaster ride, just watching it from a distance. EKEH is a caper film, sure, but it's no thriller.
Having said that, one must appreciate that it achieves a Bollywood rarity: the twists are sharp, and you really don't see them coming. This is never a boring film, and should be watched just because it's interesting to see what is possible in Indian cinema today.
Also, unlike most of the 'thrillers' doing the rounds in theatres today, EKEH is not a rip-off of an English DVD you might have rented last week.
Sigh. If only the leading pair could act…