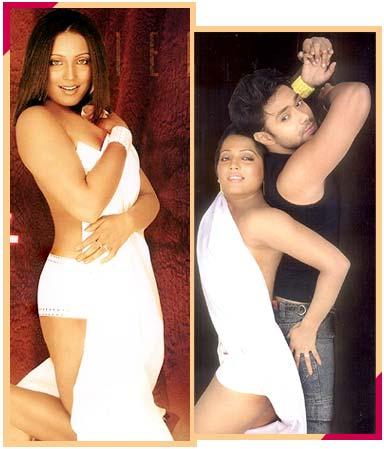 Meghna Naidu is always in the news for all the wrong reasons. This time, it's because of the risque posters of her new film, Bad Friends.
Meghna has always been known for her skin show, but -- surprise, surprise -- this time the lass denies it.
Apparently, the posters have been digitally manipulated to show off more Meghna than originally photographed.
"This movie was supposed to give me a change of image, as I play the wife," she says. "There are two other girls doing the glamour part of the movie. There are no such scenes in the movie as the posters show."
Interestingly, the images on the left are apparently the pictures minus manipulation, which brings up the question as to just how bad the altered posters can be. We tried to hunt for one on the streets, but failed.
Meghna is very upset and vows to henceforth work only with "honest directors and producers."
She thinks the movie taught her a lesson -- not to accept anyone at face value -- and also feels it should be a pointer for newcomers in the industry, especially girls.
Text: A Ganesh Nadar