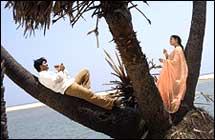 K V Anand, the noted cinematographer and debutant director of the Tamil film Kana Kandein, told me, "mine is a commercial film with five songs and three fights."
It amused me.
But after watching the film, you feel the question of whether it is a commercial or arty film is immaterial. All that matters is making a good, well packaged product.
On that score, K V Anand has succeeded in making an extremely watchable, highly thrilling film with a ' different' story. And some very lovable and believable characters – something rarely seen in Indian cinema today.
The film is the story of Bhaskar, a PhD scholar in Chennai, with a tested and patented idea to generate drinking water from seawater at a lower cost than is possible today. The bureaucracy turns down his idea to build a desalination plant. As a clerk in the government office puts it, they 'already have proposals from L&T, Reliance and many such companies..' 
Bhaskar decides to build his own plant so that the common man can benefit from his groundbreaking invention.
| | |
| --- | --- |
| | More on rediff.com ! |
| | |
Yes, he is the typical idealist seen mostly (and, according to hardened cynics, only) in Indian cinema. But Srikanth manages to pull the role off without being boring or mouthing clichés.
Bhaskar's close-friend-turned-wife, Archana (Gopika), arranges the funds by borrowing from her college mate, Madan (Prithviraj), who is a big businessman.
The first half of the film just breezes through, with some extremely refreshing and uninhibited love scenes between Bhaskar and Archana. As far as I can remember, the last time one saw such interesting, realistic love scenes were in Mani Ratnam's Alai Paayuthey.
Like Madhavan and Shalini in Alai Paayuthey, Srikanth and Gopika appear perfectly in love. It is a treat to watch them together on screen.
Similarly, I would say K V Anand's song picturisation is as good as Mani Ratnam's, who I rate as the best in that department.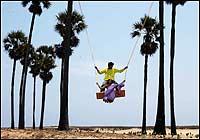 If the first half of the film is full of romance, interspersed with the struggle Bhaskar goes through (though it is not of the kind that attempts to garner the audience's sympathy), the second half is thrilling, shocking and even intimidates you at times.
The thrills begin when Madan, the suave businessman, turns out to be a completely merciless villain. He goes to any extent of torturing the couple to get his money back. And he does so with a smirk.
The role of Madan, played by Prithviraj, will soon be a benchmark for new age villains. Tall, suave and handsome, Madan is perpetually well groomed and his behaviour is immaculate. Conversely, Bhaskar, the hero, loves the occasional beer and is shabby and unshaven. Bhaskar is easily provoked into anger, Madan never even raises his voice.
If Prithviraj is lovable and sophisticated in the first half, he is menacing and intimidating in the second half -- but with a constant naughty smile on his face. Anand said he approached almost all the top Tamil heroes with this role, but all of them refused. One can only pity those actors, because they lost a golden opportunity to perform. 
The two main female characters in the film, Archana, and Vasantha -- Bhaskar's research guide -- are also not typical screen females. Vasantha's role could have become the typically fanatical, slightly elderly research guide, ready to 'eat' any young man alive, but she is flirtatious, not sex-starved.
Archana is a young wife who calls her workaholic husband home to make love – something that one doesn't often witness in the archetypal chaste heroine.
On the whole, K V Anand has made a very good romantic thriller.