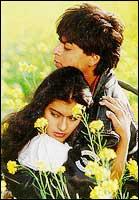 Dilwale Dulhaniya Le Jayenge is, by sheer dint of originality, one of the best Hindi films made in the last 20 years. Sure, it's a romance. And we've seen enough candyfloss 'boy flips for bride-to-be after it's too late to cancel the wedding caterers' movies.
But DDLJ took this further. Raj, the protagonist, had, despite his shirt-exclusively-half-tucked-into-pants boyishness, solid character. Therefore his twist: the bride must be had via pursuasion, not purloining.
All the characters are well fleshed out. Raj is immensely identifiable, if largely at an aspirational 'cool' level. Shah Rukh Khan gives a fabulous performance, redefining the Lover for the 1990s with great panache. He's cool and flippant, but sincere enough to appeal to the junta. The performance itself is, like the best in the business, played well enough to come across as effortless, as non-acting.
| | |
| --- | --- |
| | More on rediff.com! |
| | |
The only part we might not actually identify with is the super-filmi fight scene, but even this is given plausibility: you might not have punched a man in your life, but there really isn't a better time to start than when the angered stud-boy is buffeting your father on the head.
Shah Rukh not just makes dancing look ridiculously easy, but at moments when Raj switches gears from a Ruk ja brashness to an unrelenting glare at Simran for accepting the decision to marry a man she's never met -- he rocks.
Casting a romance well is vital, and being Yash Chopra's son helps you get a dream pick among the Bollywood market. Aditya, who made his directorial debut with DDLJ, wisely picked Kajol to play Simran, the real-as-life actress bringing warmth and credulity to the initially prudish and reluctant Simran. Not to mention the on-screen chemistry that has become the stuff of legend. There are times when Simran seems unreasonable, but her character is undeniably real -- and her familial background couldn't be more different from Raj's affable daddy (Anupam Kher).
The film is made with great cleverness. It's a modern film with a different look, a feasible storyline, and lots of urbanity in terms of character and dialogue. However,  it is crafted to be a blockbuster, and so there is a lot of pandering to the front stalls -- there's a gruff but essentially understandable Amrish Puri looming in the shadows, his hands veritable slapping weapons; there's the Welcome To Punjab song, Ghar Aaja Pardesi; there's the typically clichéd use of background score, rising to a raucous crescendo to coincide with heightening of emotion; and then there are the dragging bits of Ma-Beti dialogue, the only bits in the film that one is weary of after countless viewings.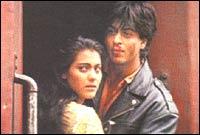 The magic is in the balance. The film works because it treads the fine line between commercial and interesting cinema with an awful lot of flair. And it staunchly refuses to age. Multiple viewings bring out nuances in scenes, gestures, dialogue -- things we might have missed the first half-dozen times we watched DDLJ.
And then there are the little bits of detail that the director wisely didn't go into -- for one, I'm a firm subscriber to the idea that Raj snuck a peek at Simran's diary (probably the night she got drunk and he wrapped her in his white shirt), without which it would be quite unthinkable for him to mouth words like 'andekhe anjaane' (unseen stranger) to play at wooing her.
We all have our favourite moments from the film -- Raj's valiant AlPacino-AlPacino attempt at Europeanese; Anupam Kher's befuddled attempts at engineering marital bliss, unaware of the bride in question; Tujhe dekha to jaana sanam, when Lata Mangeshkar sang as gloriously as gold; an alarmed Raj stammering 'beer' instead of lassi to Amrish Puri; and there are women, I kid you not, who actually swoon each time Shah Rukh, driving a convertible during Ho gaya hai tujhko to pyaar sajna, runs a hand through his windswept hair.
Five hundred weeks? Sure. Hell, give us 500 more!
Thanks, Adi.