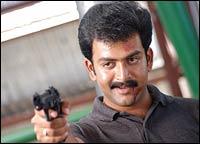 Prithviraj, son of the famous Malayalam actor the late Sukumaran and actress Mallika, is being touted as the next big thing in Malayalam cinema after Mohanlal and Mammootty.
Prithviraj debuts in cinematographer K V Anand's Tamil film, Kana Kandein -- in a negative role.
The young actor spoke to Shobha Warrier about why he chose to discontinue his studies and why he accepted a negative role to start off his career. Excerpts:
| | |
| --- | --- |
| | More on rediff.com! |
| | |
What I enjoy about acting is the adrenaline rush. When the director says, 'Action,' there is a huge rush of adrenaline, I don't know why. I just love the feeling of becoming somebody else. I am not like Madan (
his character in the film
), but becoming him when the director said, 'Action' was an exciting experience.
One day K V Anand asked me whether I would be interested in doing a film with him. He's a very well known cinematographer, and I am a big fan of his work. So I considered it a privilege to associate myself with him in his first film as director.
We met up in Mumbai and he told me the story. I was fascinated. I never thought that he would give me such a character. As I don't have an image to live up to, I look only for roles that excite me. I was very thrilled that he offered me a villain's role.
Madan is a very quiet, laid-back and introvert-ish kind of person. He doesn't fit into the clichéd cinematic conceptions of a villain; he breaks all of them. He doesn't drink, smoke, womanise or talk loudly. He has the best of manners and treats people with respect.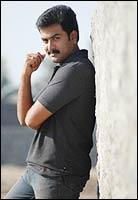 K V told me that until the point the audience got to know Madan was a negative character, I should actually be better projected than the hero. He (Madan) remains a gentleman with good manners but below that façade, his intentions are anything but honourable.
The character was a complicated jigsaw puzzle to solve.
K V said (the hero) Srikanth's character is a chap who lives for others, but Madan is one who lives for himself. I have not met anybody like Madan in real life. But I have met people who as noble as Bhaskar (Srikanth's character). In my case, I am like neither characters.
He (K V) told me he initially had Arvind Swamy (Roja) in mind, and met almost all the leading stars in the Tamil film industry. But I believe all of them had a problem in doing a negative role.
I thought he (K V) wanted me to play up to the Arvind Swamy image -- something which I don't think I was able to. I still remember one day he told me that he wanted me to do something like Arvind Swamy did in his films but I wasn't doing what he would do.
He said he couldn't complain because he was still getting what he wanted from the character. I thought that was a huge compliment.