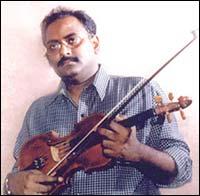 Some years ago, one heard a slightly offbeat song Tu mile dil khile aur jeene ko kya chahiye from Criminal, starring Nagarjuna and Manisha Koirala.
The song soared up the music charts, but the film sank.
A few years later, the same composer composed songs for Jism (some great ones like Jadoo hai nasha hai, Chalo chalen and Aawarapan), and he had arrived.
His name itself is a Carnatic raga.M M Kreem writes his name thus only for Hindi films. He uses M M Keeravani for his Telugu projects and Maragathamani for Tamil films.
| | |
| --- | --- |
| | More on rediff.com! |
| | |
"Stephen King had two identities, I have three," says the rather reticent composer, who shuttles between Hyderabad, Chennai and Mumbai.

Kreem has a strong foothold in Telugu films and does Hindi films only sporadically, the latest being Amol Palekar's Paheli, starring Shah Rukh Khan and Rani Mukerji.

A favourite with Mahesh Bhatt, his brother Mukesh Bhatt and daughter Pooja Bhatt, Kreem has won accolades for Bhatt movies like Criminal, Zakhm, Jism and Rog. He has also scored the music for Sudhir Mishra's Is Raat Ki Subaah Nahin.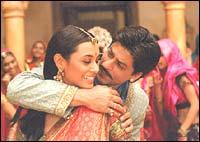 Kreem is secretive about Paheli (right). "Ninety per cent (of the music) is acoustic and not digital. It will sound modern without being modern," he says. "Amol Palekar is an intellectual. I feel comfortable working with him. His wife knows classical music."
His future projects in Hindi include Rajiv Babbar's Kasak and an untitled movie with Tanuja Chandra. There are about three, four Telugu movies in the pipeline. "I like dealing with different projects at the same time as it helps to keep me fresh. I feel I get stuck if I am in one mood," he claims.
"Hindi films happened naturally," he adds. "Criminal (Nagarjuna in the film, below right) was a bi-lingual film, made first in Telugu and then in Hindi."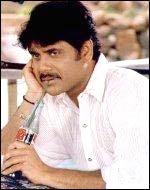 About his special association with Mahesh Bhatt, Kreem says, "Mahesh is frank, straightforward and likes my kind of music. Film music, according to me, is of two kinds -- for the lip and hip. Mahesh likes the first, which is long-lasting and doesn't provide scope for pelvic movement."
Perhaps that explains why his best efforts are reserved for Bhatt productions.

Kreem's musical sojourn so far spans 178 films in 15 years, in Telugu, Tamil, Malayalam and Kannada films besides Hindi.

Training in classical music (he learnt to play violin in Carnatic and Hindustani styles) has helped him. But his journey has not been smooth.
He worked as an assistant to music directors Rajamani and Chakravarthy. He also conducted an orchestra on a freelance basis.
His association with lyricist Veturi took him places. He bagged his first film in 1989, in a Krishnam Raju movie. But it was stalled.
He stuck gold with Ramoji Rao's Manasu Mamata. He remembers the days of struggle even now. "There was lot of mental stress, enough misery due to my economic condition. But as the saying goes necessity is the mother of invention," he says, adding, "But even today the struggle continues. Pain and struggle are part of life. I am now struggling to lose weight!"
He has been influenced by many -- K V Mahadevan, M S Viswanathan, S D Burman, R D Burman, Bhimsen Joshi, Kishori Amonkar to name a few. He listens to any kind of music except qawwalis. Ghazals are his favourite.
Kreem believes in the philosophies of Swami Sivananda and Osho, even though they may be contradictory. "Swami Sivananda says one must live with a goal. One must try to achieve it no matter how good or bad it is, while Osho says there is no goal -- there is only the path. Live life and celebrate each moment of the path. I manage to live by both. We have good and bad within ourselves, so we can live with contradictory philosophies."
"For the past 15 years, my output is not new. It is a form of expression. Whether it is unique or not is for listeners to say. If you produce a sound, it exists in the universe, it's just that we cannot hear it," he continues philosophically.

Kreem loves spicy food, especially Bisi bele Baath, a rice dish.
A voracious reader once upon a time, his reading has reduced considerably in the last few years. "I like watching English movies; they make sense," he says. "I liked Munnabhai MBBS because it was different from the rest. Paheli is also different."