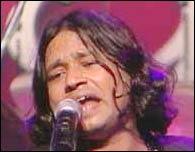 Kailash Kher still gets unnerved every time he passes Mumbai's Andheri railway station. "I lived here on the platform and one chaiwallah (tea-stall owner) in particular was a good friend of mine," he says.
As Kher's sleek, black Honda City zooms out of the posh Lokhandwala area in Andheri, where he now resides, he says a silent prayer while crossing the station that was once his home.
"I had a few friends, some of whom were also involved in some way or the other in a few films. My name was recommended to musician Ram Sampat, who was at that time looking for a different voice for a jingle for Nakshatra diamonds."
The jingle may not have given Kher instant recognition but fetched him Rs 5,000, which he needed desperately at that time "just to survive."
Life didn't change dramatically even after a few more jingles. But, "at least I was moving in the right circles and visiting studios I couldn't have dreamt of stepping into, without any reference or an industry godfather."
| | |
| --- | --- |
| | More on rediff.com! |
| | |
The sensational singer of Allah ke bande from Waisa Bhi Hota Hai Part II -- the film was eventually declared a dud at the box-office -- originally thought his big break would come from Shah Rukh Khan's big production banner Dreamz Unlimited for the film Chalte Chalte.

"I thought I had arrived in the industry when the song Tujh par gagan se was offered to me by music director Aadesh Srivastava. But I was in for a rude shock when I finally got the cassette and heard the same song in Sukhwinder Singh's voice."

Kher admits it was a setback, especially because he was still a struggler and had pinned his hopes on that song.

"To be completely honest, I had forgotten about Allah ke bande because it was a small-budget film and I wasn't even sure of its release."

Thankfully, for both Kher and the country, Allah ke bande wasn't chopped from the film, and remained at the number one position for almost six months across different channels.

That was nearly two years ago and it was, according to Kher, the turning point of his career. "It was a miracle that a song from a small film -- that didn't even get good publicity initially -- was so well received," he says.

"The song was simple, raw, sung without any pretensions and I didn't imitate anyone and just sang it in my own style."

Initially, Kher got a lot of flak for his singing style. He admits he used to be nervous about it. "My voice was considered raw and not the conventional 'hero kind of voice,' because of which I got turned away from a lot of places," he says.

As a boy, Kher ran away from Meerut, his birth place, to Delhi in search of a guru. He learned music from nearly 15 different teachers before his frustration took him to Mumbai. "This was nearly 10-12 years ago, and I was turned out by almost everyone," says the singer.

Back in New Delhi, where his parents also shifted, Kher was asked to join a family friend's sari export business. "That didn't work out, and for, nearly two years, I was a frustrated man staring at my parents' blank faces. They had lost all hope," Kher recalls.

That was when he decided to take one final plunge in Mumbai's tinseltown. "I still wonder what I would have done if things had failed this time too," he says.

His critics, who once called his voice flawed and untrained, especially as it broke at high pitch, have had to chew on their own words as music directors are now creating songs especially for Kher in films.

Ismail Darbar, the music director of films like Hum Dil De Chuke Sanam, Devdas and Kisna, says, "Kailash sings with complete sincerity and dedication. Music for him is devotion, and that aspect reflects in his singing."

While A R Rahman calls him a 'fragrance of rural Indian soil,' Aamir Khan hugged him and told him, 'Your voice alone is music for the ears.'

Now, Kher's personal life is a daily grind of recording sessions, rehearsals with music directors, live shows and innumerable interviews, besides looking after a bank balance that continues to swell -- he charges Rs 50,000 per track -- and an appointment schedule that he maintains in his sleek Nokia 9500.

The in-demand singer is gearing up for a tour to the US with Jatin-Lalit, after which he will be away for three months on a world tour with Rahman in 22 countries. That apart, he's patiently waiting for his forthcoming releases like the Aamir Khan starrer The Rising, in which Kher even makes an appearance.

There is also Ram Gopal Varma's Sarkar, Suneel Darshan's film Apaharan, Khalid Mohamed's Silsilay, Tanuja Chandra's film on the 1971 Indo-Pak war, Runaway, and another flick titled Chocolate.

Kher says he is a busy man with no time for a love life. Nevertheless, the hunt is on for "a simple, sweet girl." He wants to tie the knot by early next year.

"I don't have the time to look around," he says, "aap dhundiye (you search) please."

So, after I've wrapped up this assignment, I'm gearing up for a new task. It is called 'the search for Mrs Kailash Kher.'