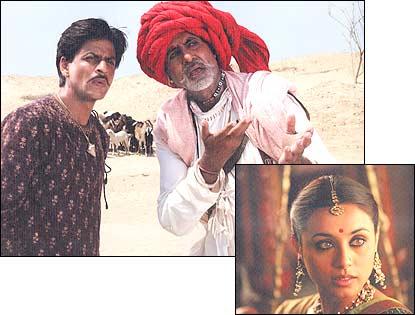 Opinion may be divided on Shah Rukh Khan's moustache, with many loving the superstar's new look and others nixing it, but there is no denying that the upcoming Paheli looks like one of the most colourful films we've seen in a long time.
Images from Amol Palekar's film look earthy yet unique, vivid yet ethereal.
Shah Rukh looks totally grounded as a Rajasthani villager, Rani Mukerji is simply stunning, while everyone else in the film looks refreshingly different.
Amitabh Bachchan looks enthused with his bright new avatar.
Paheli, shot by ace cinematographer Ravi K Chandran, has one of the freshest palettes seen in current cinema.
Watch out for more pictures tomorrow!