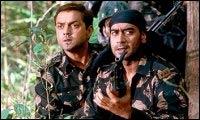 After watching the posters and trailers of Tango Charlie, I had assumed it would be another war film on the lines of Border and LOC.

But this is a peek into the life of Border Security Force soldier Tarun Chauhan (Bobby Deol), whose code-name on the battlefield is 'Tango Charlie'.

Tarun is a simple man whose first assignment is to flush out Bodo militants, led by debutant Kelly Dorji, from the dense jungles of Manipur. He is surprised by the knowledge that killing is necessary to win wars.

The action and fighting scenes in the jungle are very well shot and the movie initially flows at an acceptable pace. But then we enter Tarun's private life where he goes back to his village and falls in love with Laachi (Tanishaa). Here on, the movie drifts a bit and slows down, and all the buildup at the start goes down the drain.


| | |
| --- | --- |
| | More on rediff.com ! |
| | |
The most bizarre scene in the movie is when Ali leads a team of BSF officers to guard a landlord in a remote district of West Bengal. The landlord's daughter, Shyamoli (Nandana Sen) is to be married, but he is under threats from terrorists and the BSF is deployed at his house, making you wonder if there is no police in the area.

Overall, the two heroines – Tanishaa and Nandana – don't have much to do, but have excelled in their glorified cameos. Nandana has audiences gaping lustily as she bares her back while changing her blouse in a cave.

After operations in remote villages of Andhra Pradesh and in the riot-hit areas of Gujarat, and the romantic scenes in between, the action shifts to Kargil, which also happens to be the climax scene.

Ali dies after a gruelling battle while successfully defending a bridge, while Tarun goes after the escaping enemy and manages to kill the 50-odd terrorists near the border single-handedly.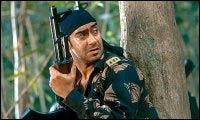 The movie tries to glimpse into the life of soldiers, and the sacrifices they make, but somewhere in the middle, the movie loses its plot.

Watching the love stories of both the heroes – a elderly gentleman next to me quipped, 'Kitna paka rahe hai' (How boring these scenes are).

Good and strong performances by both Devgan and Deol, but a weak storyline leaves everyone disappointed. The film is full of boisterous dialogues - some are fine, but most are over-the-top.

At the start of the movie, a line says – dedicated to all the soldiers of the Border Security Force. I wonder if they would really want to watch this movie, which is supposed to depict their lives, but sadly fails to.