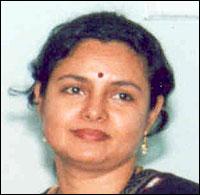 Dr Jaya Shreedhar, a doctor who works as a health advisor with Inter News Network, is the youngest of Gemini Ganesan's seven daughters.
She had spoken about her father and her relationship with him just days before his death on March 22. Excerpts:
My sisters say I was the only child who had the pleasure of having our father at home during my childhood. They say they never got to see him as much as I did. By the time I was born, he was a senior star and had moved out of all the relationships. He was with my mother (his first wife, Bobji). So it was quite a bit of roller-coaster ride at home.
It is really strange but the upbringing was in such a way that there was never any illwill between all my father's children. It was not like he had done wrong or bad things. I think maybe because we are born into it, we never felt bad. If I had been brought up in a middle class culture, I might have learnt to distinguish that what my father did was very unusual. Because I grew up with this, I didn't find anything unusual in it.
I already knew Savithri Amma and Pushpavalli Amma [Gemini Ganesan's other wives], and they both had even fed me. It was all like one big happy family in some ways. I am not saying it was like a dream story or anything like that; it was not (a dream story) at all.
There have been many ups and downs. Still, my mother took great care to shelter us from this. Even after we were exposed to some of those things, it is wonderful that it did not spoil our relationship with all the other children. I must say the credit goes to all the various parents! Nobody thought to separate anyone from anyone else. A part of the credit goes to my father also because he has always been affectionate. I can't say he had always been responsible, but he was affectionate. He never lifted a finger against the children.
We sisters were together when Appa fell seriously ill a couple months ago. He was very happy to have all of us together. I think that was a kind of rare pleasure which he never really had when we were younger.
I would also like to say that my mother and my father were very close; very, very close. It was like they had always lived together. A lot of the resilience that we have inherited, I think has come from my mother. She is an amazing woman.
Don't Miss!
Rekha skips Ganesan's funeral
He was the king of romance!
'Gemini made me starry-eyed!'
Ganesan is not Rama, he's Krishna!
Gemini remembers his peer