A bunch of prominent Bollywood personalities gathered in Mumbai on Friday to champion the cause of Aman Verma, the latest target of India TV's
exposes
. Their support culminated in a dramatic press conference.
Venue: Mehboob Studio in the northwest Mumbai suburb of Bandra.
Cast: Salman Khan, Sanjay Dutt, Govinda and Arbaaz Khan.
Directors: David Dhawan, Pahlaj Nilhani, Suneel Darshan and Raj Kanwar.
| | |
| --- | --- |
| | More on rediff.com ! |
| | |
The Accused: Aman Verma.
Reason: In defense of the television star after India TV caught him on camera with a girl named Ruchi, who allegedly laid a casting couch trap for him.
Judge: The Public.
Action!
Salman Khan:
Last night, I could not sleep. My mother came and told me, 'Soja Salman nahin to Ruchi aayegi (Sleep Salman, otherwise Ruchi will come)!'
Who the hell is this Ruchi? What does she do? Where has she come from? What does she look like? Has anybody seen her face? Do her parents know what kind of job she is doing?
I will give you an example of a butcher. If a butcher wants to buy meat, he will not go to any other butcher, but he will buy from his own mutton shop. In the same way, if an actress needs a break in her acting career, then she should not approach an actor or an actress, but producers or directors!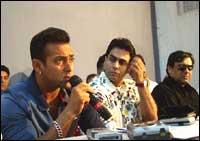 So I strongly feel that Aman is innocent and this is a trap for him.
What wrong has Aman done? Did he unzip his pants in front of that girl? Did he open his shirt buttons?
He didn't do anything of that sort. So how can you call him guilty?
Aman is a 32-year-old bachelor and, if lured by a girl, obviously he will get trapped. This is a well-planned conspiracy to malign him.
If you talk about Shakti Kapoor, I think it is his personal problem and that of his family.
How can they (India TV) take a risk by putting a girl, without any security, in Shakti Kapoor and Aman Verma's rooms? How risky can this be? If they had locked the door then imagine what would have been the consequences! How can they take such risks with the life of a girl?
Why are they doing all this? For TRPs? (Television Rating Points, used to measure the popularity of a television show/channel) It is disgusting.
In my 15-year film career, I have never heard of anything such as a casting couch.
My Verdict: Not guilty.
Actor turned Member of Parliament, Govinda:
India TV is doing these things only to catch eyeballs. Nobody is seeing their television channel, so they are up to such things. They have not done anything that will benefit our youth or our country. They are involved in cheap gimmicks.
I feel if anyone purposely assassinates the character of a person, he is worse than a murderer.
Look at Shakti Kapoor. He took names of some heroines, and India TV telecast this. I think this was in very bad taste. How could they air the names of our heroines? Would they have done so if those heroines were their daughters or sisters?
Who knows? Aman Verma would have married that Ruchi. His lust could have turned into love, and for all you know he would have tied the knot with her.
I feel India TV has misused their power and they have no right to do so. There is a law in our country that everybody has a right to privacy. India TV has violated the law by making Aman's life public.
Verdict: Not guilty.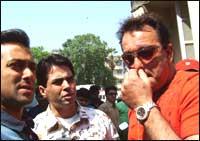 Sanjay Dutt:
(Dressed in an orange t-shirt, Sanju arrives only to pose for the cameras and throw in his one-liner.)
I am here to show solidarity with Aman Verma.
Producer Pahlaj Nilhani:
What has been done is in very bad taste! Filmwallahs are always helpful if any calamity strikes our country. We are always together in raising funds and doing social service.
India TV had first telecast a sting operation against some politicians of Bihar, who were caught in sexual acts. They could not succeed in getting more viewers for their channels, and therefore they laid traps for film personalities, as they knew this would succeed.
Everybody knows one common fact: If you need a role in films, you need to go to producers or directors and not actors. So why was this girl going to actors and not producers?
Verdict: Not guilty.
Arbaaz Khan:
Have you ever heard, in the last 70 years, that a casting couch exists in our industry?
Have you heard of such a case registered against anybody?
No. Never. Then how come India TV is claiming all these things?
There are far more serious crimes in our country happening than this one. Why don't we try to solve all those problems?
Director Suneel Darshan:
I am here to express my solidarity with Aman Verma. India TV just wanted to make a good story and therefore they exposed Aman in such a way. I don't agree with them.
Director Ravi Chopra:
Aman is a great guy. I feel this is invasion of privacy. I don't think anyone should be judgemental about Aman after seeing these tapes.
Director Raj Kanwar:
I want to know in which period of time has exploitation not taken place. I feel the approach of India TV is not right. People should boycott such television channels. If you want to change society, then highlight some other issues and don't do such cheap gimmicks.
The Accused, Aman Verma:
They have distorted my words.
The girl asked me, do I look like Karisma Kapoor?
I said, 'Yes.'
They twisted that 'Yes' and used it to their convenience.
I am in this industry for more than eight years. I have worked hard to achieve all these things. I have never used anyone in my life, and will never do so.
What wrong did I do? Did I touch Ruchi? Did I slap her?
India TV claims that I was touching Suhaib Ilyasi's (the director of the show) feet. This is wrong. I never did that. Did you see my face while I am doing so? No, I am not there. The tape is doctored. 
Ruchi was calling me to her hotel but I refused. I called her to my home. If I had some wrong intentions, then I would have called her at night. I called her at 3:30 in the afternoon, and at 3:45, I had to leave for another shoot.
I appeal to the public that they should discourage the motives of such people so that my name should not be tarnished in such a manner.
Appeal: I am not guilty.
Journalists: Questions, questions and more questions.
Celebrities: No time for answers. They have more important things to attend to; they have their lives.
Public: It is up to you to decide whether Aman Verma is guilty or not.