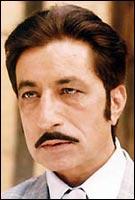 Shakti Kapoor tendered a public apology to those he had 'unintentionally hurt' by his remarks that Bollywood personalities were seeking sexual favours in return for film roles. But he added that he suspected a political party had 'framed' him.
The actor found himself in the eye of controversy when he asked a journalist, posing as an aspiring actress, for sexual favours in a sting operation. Though the incident is said to have occurred two months ago, it was telecast on Sunday, March 13. Kapoor found himself deeper in trouble because he named leading film personalities to have used the casting couch to enter the film industry.
'With folded hands I have apologised to the entire film industry, including Subhash Ghai, Preity Zinta, Aishwarya Rai and Rani Mukerji, who are close to me,' he said. 'I had no intention to hurt them. The whole thing was doctored and tampered and, in case they still feel hurt, I am ready to apologise again.'
'I have been framed so badly that I could suffer a heart attack,' he said. 'They could have pushed me to the brink of committing suicide.'
'I suspect I have been framed by a political party. I had supported the Congress and my opposing rivals would have found this the right opportunity to settle scores for having backed the party. The said channel (India TV) which has pulled through this 'expose' is known to have the backing of the rival party. Hence, I strongly suspect that the whole thing had been framed,' he said.
While the film industry is considering a ban on him, Kapoor says, 'I have already conveyed my deepest apologies to all those I have hurt through SMS messages.'