When we asked readers to shares their experiences of meeting with Aamir Khan, we were pleasantly surprised with the response. We received not only exciting anecdotes but also quite a few pictures!
We featured some of these anecdotes in the first part of our series, to celebrate Aamir's 40th birthday on March 14.
We present some more anecdotes from our dear readers!
Aamir plays gilli danda!
Sujeet Vaidya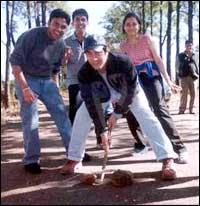 I write this on behalf of my gang. After two years, we can't still believe that it occurred!

It happened on January 1, 2003. We were a big group of 14 people celebrating the New Year in Panchgani. We decided to play gilli danda near the bungalow where we were staying.

I was in the catching position in the outfield away from the road, when a silver Mercedes pulled up. We had to stop the game to let the car pass.

A sudden loud spontaneous cheer went up among my friends who were closer to the car, as it passed them. They started yelling that Aamir Khan was driving the car. Everyone were happy. I did not see Aamir.

The game resumed. After a while, the silver Mercedes was on its way back. My friends literally did a rasta roko of sorts and there was no way the car could go anywhere.

Aamir and his Lagaan co-star (Amin Hajee, who played Bagha, the mute) stepped out. The girls were ready to faint, and so were the guys! I ran like crazy back to the bungalow, and brought our cameras and began clicking pictures.
Aamir even played a round of gilli danda with us. We taught him the rules. Hajee was familiar with the game.

We played for about 15 minutes. He was hitting the gilli all over and we were cheering every shot!

Later, he posed for pictures, chatted with us and signed autographs. Then he left, while our memories stayed on. It was an excellent start to 2003!


Starring Aamir-SRK?
Khalid Noor
I once met Aamir Khan on an international flight, when he was on his way to the US after Lagaan was nominated for the Oscars.
I was travelling on an assignment to Milan and was flying by Lufthansa via Frankfurt. Aamir was quiet initially, going through some papers. When he was finished, he looked at me and saw that I was busy with a presentation. He asked me where I was from.
After the initial pleasantries, we got into a serious discussion. I was pleasantly surprised to see that Aamir was quite knowledgeable and sharp. I am a fan of Aamir Khan ever since I saw Qayamat Se Qayamat Tak.
I asked him one question that had been on my mind for a while -- why hasn't he costarred with Shah Rukh Khan in a movie yet? That would be a casting coup.
Aamir just smiled and kept quiet. I prodded further -- was it the combined cost of the cast that is keeping the producers away?
At this, Aamir laughed and added that he was ready if SRK was willing.
Let's keep our fingers crossed.
Aamir: A good singer!

Oric Pinto
About eight years ago, Aamir had come to Bahrain for a show called Khan versus Khan. I met him with great difficulty, thanks to an extremely unruly crowd. I pushed myself forward just to shake hands with him.
He is not only very handsome but also a very good singer. And he plays the guitar too! He sang a song from one of his movies. Salman Khan was also at the same show, and I met him too. But believe me, Aamir is more handsome and down-to-earth. I wish I meet him again.
Chicken, please!
Jayash
My colleague Sid and I were at our usual lunch adda in South Station, Boston.
We were waiting for our orders, when I heard a male voice, 'Tum mozzarella sandwich lo, mein chicken...'
I turned back and saw this Indian couple waiting in line behind me and I said, 'Namaste.' I turned back to pay the lady at the counter. But I thought the voice sounded too familiar, so I turned back at the couple. This time, I got a good look at them and realised that it was Aamir and wife Reena, deciding what to have for lunch!
I was dumbfounded for a moment. I kept looking back at them, wondering if it was a dream. They could easily pass off as regular commuters. Aamir had a shabby sports jacket on, and his wife wore a regular churidar and looked pretty.

We then approached them and shook hands with Aamir, congratulating him on Lagaan. His kids were with their caretaker sitting around their baggage. Aamir said they were on a vacation. They were going to New York by train, and then heading back to Mumbai.

It still bothers me whenever I think back that neither of us bothered to take the autograph of one of my favorite Bollywood stars
Hey, that's Aamir!
Mufeez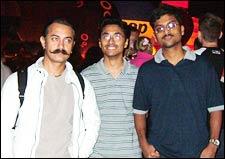 I met Aamir at the balloon festival in Bristol in August last year.I was standing beside him waiting for my friends but I didn't recognise him since he was in his The Rising hairdo.
My friends arrived and one of them greeted Aamir with a 'Hi! How are you?'
We started walking ahead and I asked my friend how he knew that guy and he replied, "He is Aamir."
For a moment, my friends beside him, stared at each other incredulously. Within a second, we were running back to where Aamir was standing.
We requested a photograph, and he obliged (Aamir Khan with Mufeez (extreme right).
I was too shocked to ask him anything but my friends started shooting questions about what he was doing in Bristol. Aamir answered each question coolly.
My friends and I spent the rest of the night relating the story to the others.