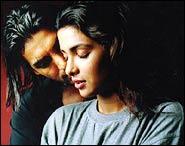 This Friday's release, Karam, has a good story, but is badly made. It would have made for much better viewing if it did not have as many songs and did not drag.
The story -- by rediff.com former staffer Suparn Verma -- is about Shalini (Priyanka Chopra) and her husband John (John Abraham), a contract killer. John wipes out a family by mistake, leaving one witness alive. After the incident, John's conscience pricks him, as the list of victims includes a dead child.
He buckles under pressure when his wife begs him to quit the crime world. That is when, his boss, Captain (Bharat Dabolkar), gets attacked by the rival gang, belonging to Yusuf (Vishwajeet Pradhan). Captain wants revenge by killing his attackers.
| | |
| --- | --- |
| | More on rediff.com! |
| | |
John refuses, but finds himself cornered.

On one hand, Captain holds Shalini hostage until John kills the men. On the other hand, the police are closing in on him.

Those who like the lead pair must watch this film! John and Priyanka do a great job.

But the others should give it a miss.

The film has too many flaws. Let me list the important ones here:

# John and his cronies roam around freely while killing people. They take no precautions. In one scene, while they try to enter their target's home, two girls look at them and say, 'Hi handsome!' He waves at them and then kills three people in the house.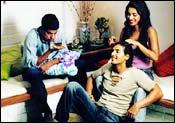 # When Inspector Wagh learns that two listed on the hit-list will visit the same bank at same time, he reaches the bank in time and warns them. But he does not care to inspect the area, as any thinking police would have done. If he had, John and his friends would have been caught on the spot.
# After killing his victims at the bank and having the police on his tail, what would an average contract killer do? If he's John, he'd simply walk to the nearest park and plan his next murder!
# John jumps from the first floor along with his pregnant wife. He goes on to fight some guys, and continues jumping around with his wife. How does he plan to save his child?
I could go on...