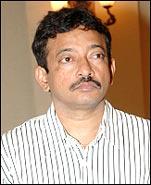 Ram Gopal Varma thinks
Sarkar
is his masterpiece.
Speaking to Entertainment Correspondent Raja Sen, the maverick director talks about Amitabh Bachchan, Abhishek, and about how if Francis Ford Coppola had not made The Godfather, Sarkar would not have seen the light of day.  
And, of course, Ramu answers the question on most minds: Whether Sarkar is based on Shiv Sena supremo Balasaheb Thackeray. Read on:
The Godfather has been a film which has influenced me a lot. I have lived with that script and story, the Mario Puzo novel, for 25 years. Ever since I came across it the first time. And the fact is that it has taken me some time to make this movie (Sarkar). I feel in that time, I have gained a certain maturity as a director. Like Amitji (Amitabh Bachchan) said, we first discussed this movie five years back.
The whole country admires Mr Amitabh Bachchan. We grew up on his films. And I just have not seen the angry young man for so long. That's the personality we want to see. He's a great performer; he can make any role work. But I do not want to see Amitabh Bachchan as an actor; I want to see Amitabh Bachchan, superstar -- which is my only desire to make this film.
| | |
| --- | --- |
| | More on rediff.com! |
| | |
And I mentioned Godfather -- yes, there are strong references to the film -- and it is where the concept and the setting of the family comes in. But the primary difference is that Godfather is about a man who uses the holes in the legal system to get things done. Sarkar is a man who does it in the open. He dispenses justice to the people, without any authority. Just on the strength of his tremendous mass popularity and charisma, which even the government cannot do anything about.
Now, when they say it's a directors film, not taking away from the performances, but I feel I have come to a certain level of maturity -- to understand that no director, no technician can ever be above an actor's performance.
A long time back, a cameraman said, 'There is no greater visual than an actor performing, in a tight close-up.'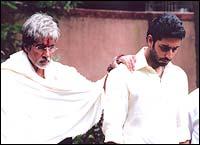 Everyone knows about Amitabh Bachchan being a legendary actor, and I had this sense of arrogance that I can make him do what I want. But what he did on locations completely blew me away. I realised that I understand the quality of performances even more after seeing him perform.
And as far as Abhishek is concerned, he has never been put in a role he is made for, which his forte is. And he fits into Sarkar. I didn't see them as father and son when I cast the film, and even if they hadn't been related, they would still have starred similarly.
Frankly, after finishing the film and seeing it -- even though this is a first-time genre for Abhishek -- I myself can't make up my mind about who is better than who. Like a guy saw the film mentioned, 'Picture dekh ke pata nahin lagta ki kaun kiska baap hai (You can't make out who is whose father)!' I just loved that line, and I feel the same way.
My point is that Amitabh Bachchan, you've seen. You've seen him over the years in so many roles, so many films, that you will have a traditional expectation. Abhishek we haven't seen that much. He gives a certain twist to what Amitabh Bachchan would have played it in his younger days. Now, this is something I haven't seen, so for me the excitement of seeing Abhishek doing that is greater than the excitement of seeing Amitabh doing that.
I always felt that Abhishek came at a time when he was miscast. The trend was towards those NRI (non-resident Indian) romances, and his personality, his demeanor, doesn't fit into those. So in a movie like Sarkar, he is in the kind of role that I, or even you, would actually like to see Abhishek.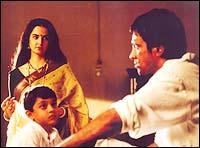 The relationship with Godfather is that if Godfather would not have been made, this film would not have been made. But in spirit, again. Because why do we connect to Godfather? Before we watched The Godfather or read Mario Puzo's novels, I never heard of the mafia, of the cosa nostra. But people like that exist all over the world. They could be underworld people, or political leaders, dictators, or kings or very powerful people. All of them have the same story.
But the authenticity with which Godfather treated it was what made it special. And that is what I'm trying to maintain with Sarkar.
First of all, Sarkar is not an underworld film. It's about a man at the head of a feudal set-up in the middle of a cosmopolitan city, where he almost runs a parallel government largely due to his personal charisma. And the film is about his friends and enemies, and his family.
He stands up for the rights of the people, what he believes in. So he obviously stands against some people, and what those people want to do to him -- in that lies the conflict.
I would say that if a man like Balasaheb Thackeray can exist, Sarkar can exist. And the point is, in a cosmopolitan city like Mumbai, if someone with a great deal of personal charisma can create this massive mass popularity, where even without an official authority a man can be in such power, if a man like that can exist… so to that extent, yes. But it's not his personal story, it's not his family, and it's not about any political party.