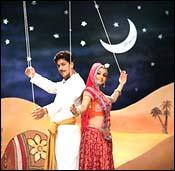 I don't think I did a bad job, considering I was given just a couple of days to do them!" Farah Khan exclaims, referring to her choreography in Amol Palekar's Paheli.
And to think Farah was almost not allowed to work in the film! "That's true," she says. "Amol Palekar had reservations about me. They thought my steps were too Western to handle a traditional subject like Paheli."
Farah has choreographed classical Indian numbers earlier, for Santosh Sivan's Asoka. But that did not seem to convince the exacting Palekar. He insisted on a more tradition-bound dance director.
But Shah Rukh Khan would hear none of it. For this Khan, friendship always comes first. And Farah figures right up there, along with Karan Johar, in the inner circle.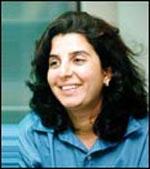 Farah reveals, "They came and saw how I did my work at dance rehearsals before they were convinced. Actually, it was for Shah Rukh. So I don't mind."
But Farah makes it clear that she's no longer a choreographer on hire. "After Main Hoon Na, my calling card should read 'director' next to 'occupation'. I'm busy with my next directorial project, Happy New Year. I keep getting pulled back into this business of choreography by my friends. I can't say no to close friends like Shah Rukh, Karan and Sajid Nadiadwala. He (Sajid) pulled me out of Main Hoon Na to do the dances in Mujhse Shaadi Karogi. Now, I have to do his next film, Jaan-e-Man -- starring Salman Khan, Akshay Kumar and Preity Zinta -- especially since my husband, Shirish Kunder, is directing it!"
While SRK has been confirmed in Happy New Year, the rest of the cast is yet to be decided. Farah seems very keen to include Amitabh Bachchan.
"I want to direct him. Then I can claim I've directed the two best star actors in Bollywood!" she exclaims.