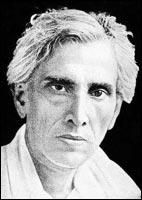 Parineeta, Vidhu Vinod Chopra's newest production, was set in the 1960s. But today's audiences have embraced it and made it one of the multiplex hits of the year.
One can't help comparing it with Sanjay Leela Bhansali's Devdas, starring Shah Rukh Khan, Aishwarya Rai and Madhuri Dixit.
Ever wondered what the USP of these films is?
While critics may allude to Chopra's production finesse, Bhansali's directorial artistry and SRK's famed glamour, I would like to credit the writer -- Sarat Chandra Chattopadhyay, one of the greatest figures Bengali literature has produced.
Known as the master storyteller, Sarat Chandra, like many of his contemporaries, was much influenced by Bankim Chandra Chattopadhyay.
Some of his novels Devdas (written in 1901, published 1917), Pareenita (1914), Biraj Bau (1914) and Palli Samaj (1916) are cases in point.
| | |
| --- | --- |
| | More on rediff.com! |
| | |
However, Sarat Chandra, unlike the older Bankimbabu, struck a chord with his readers by lending a modern touch to old themes and replacing the verbose bankimi style with an easier, matter-of-fact flavour.

For great souls, it is said, the going often gets tough. Sarat Chandra was no exception.

Born at Devanandapur, Hooghly, in 1876, death separated him from his parents early and he was brought up at his maternal uncle's house in Bhagalpur, Bihar.

In 1903, Sarat Chandra went to Burma (now Myanmar) and found employment in Rangoon (Yangon) as a government clerk. He borrowed his uncle Surendranath Ganguly's name while submitting a short story for a competition, called Mandir. It won the first prize and was published in 1904. Later, he wrote Badadidi, a novella published in two parts in a local magazine called Bharati in 1907.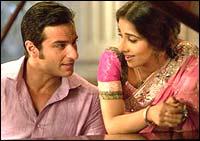 The soaring popularity of the writer, who died in 1938, caused much heartburn. Some detractors went to the extent of saying even Rabindranath Tagore was jealous of his contemporary's recognition.
Without fanning such a controversial issue further, I would like to mention how Tagore in one of his poems (Sadharon Meye) appealed to Sarat Chandra to write a poem on a simple girl.
Was that a hint that Sarat Chandra's women were too complicated?
Let us leave that to critics and focus on Sarat Chandra's women instead, who stand out for their kindness, empathy, affection and a stoic acceptance of the uncertainties of life.
Be it Roma of Pallimangal, Bindu of Bindur Chhele, Vijaya of Datta, Sabitri of Charitraheen, Chandramukhi and Paro of Devdas and Lolita of Parineeta, each character exemplifies how life is to be lived.
Sarat Chandra's women are eternal optimists amid a sea of despair.
Agrees novelist Samaresh Majumdar, "Women are the centrifugal force of attraction in Sarat Chandra's novels. It is their optimism and positiveness that have kept the magic of Sarat Chandra alive even today."
Majumdar feels Sarat Chandra's works have an aura of the unreal which makes them dear to readers. "Saratbabu's novels create a world of fantasy and wish fulfillment, a world one dreams of and rarely gets a chance to live in," he adds.
Having seen Parineeta recently, the writer feels, "It seems wee bit clichéd in the present context with mobiles and Internet ruling our lives."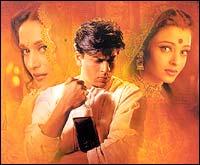 The genesis of Majumdar's thoughts, perhaps lay in what the late writer Gajendra Kumar Mitra had once written, 'Saratbabu was to adult readers what Hans Christian Andersen was to children. He created a fairytale world where a neighbourhood girl could take out money from your locker (Parineeta), your sister-in-law could bring your child up as hers (Bindur Chhele) or a sex worker Sabitri could be a sacrificing angel (Charitraheen). Saratbabu was a deft magician who had his readers spellbound in a jiffy.'
What about the men he created? Were they the weaker lot?
Remember how one drunk oneself to death for a girl?
Sunil Gangopadhyay, another prominent Bengali writer, won't agree. "Saratbabu's men are not weak but indecisive. His women are pillars of strength men like to fall back on in crisis. They may seem anachronistic, but that is exactly what the writer wanted them to be. Lolita of Parineeta may seem to be a figment of one's fantasy but she also happens to be the woman a man dreams of."
Asked to comment on the success of films based on Sarat Chandra novels, Gangopadhyay says, "Sarat Chandra is an amazing storyteller. He spins a web of relationships in his novels and lets the story evolve by itself. A master creator that he is, he has the readers fall for his simple style and spontaneous approach with effortless ease."
More simply put, if Bankim Chandra Chattopadhyay's novels are complicated trigonometry, Sarat Chandra's novels are algebra simplified and explained using simple formulae.
If you ever get lost amid Bankimbabu's complicated Durgeshnandini, turn to Pather Dabi. Or in the present context, you could head for the next show of Parineeta. It will be like having a long and relaxing bath after a harrowing day.