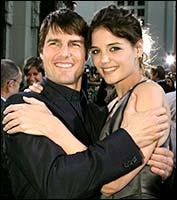 Hollywood star Tom Cruise has said he is engaged to his girlfriend Katie Holmes, and that he popped the question early on Friday morning atop the Eiffel Tower in Paris.
Cruise, 42, speaking at a news conference with Holmes, 26, in Paris, said, "Yes, I proposed to her."
Holmes, wearing a huge diamond ring, and Cruise were seen exchanging smiles during the press conference.
"It was early this morning at the Eiffel Tower, so I haven't slept at all," he said. "Today is a magnificent day for me, I'm engaged to a magnificent woman."
Asked why he chose the famed Paris landmark, he said, "I've never been to the Eiffel Tower. It's Paris, it's a beautiful city, it's very romantic."
Cruise was in Paris to promote the French release Steven Spielberg's War Of The Worlds, which hits theatres next month.
Cruise and Holmes, who stars in Batman Begins, went public with their romance in April. The relationship began after Cruise split from actress Penelope Cruz and Holmes and actor Chris Klein called off their long-standing engagement.
Photograph: Getty Images