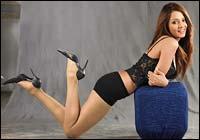 In Pyaar To Hona Hi Tha, Kajol unabashedly declared all men 'bastards.'
Rani Mukerji too did not mince words, calling the not-so-fairer sex kutta (dog) in Yuva.
In director Khalid Mohamed's Silsiilay, men needn't be called names. Their actions earn them unsaid individual titles.
All right guys, nothing personal, okay? I am not going to indulge in any male bashing. Though it's quite tempting, I must say.
| | |
| --- | --- |
| | More on rediff.com! |
| | |
Instead, lets stick to Mohamed's chronicles of three women who share something in common -- bad relationships. How they rise from the ashes, or so we are made to believe, is what Silsiilay is all about. And telling us this fairly engaging story is a dynamic Shah Rukh Khan, in a well-laid cameo.

 

Silsila 1

 

Subject: What women want and men don't

 

Her immediate introduction would be Zia (Bhoomika Chawla). Or we could say she is a hot actress with a garish dressing sense. Originally from Hyderabad, Zia began her career down South with the film, Shut up, Rowdy (Exactly, whatever!) only to climb up Bollywood's popularity ladder.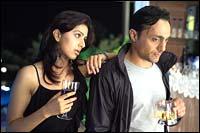 On the personal front, Zia has major issues. Her bitter break-up with bookie Neel (Rahul Bose) has led her to crazy mood-swings, dependence on alcohol and hyper bouts of insecurity. The pitiable creature lives with her moronic sister, Dia (Divya Dutta).
Cause of Zia-Neel split? Zia ached for a baby out of wedlock. Neel went wimp on her and followed the butterfly rule. The man didn't waste any time before fluttering his wings for Nandita (Priya Badlani).
Zia does a Don Corleone. She makes an offer Neel cannot refuse.
Moral of the story: If you want babies, remember action speaks louder than words.
The acting: So far viewers have only seen Bhoomika Chawla in 'Look-at-me-I-am-Sandra-Dee' kind of roles. But here the actress shows she is comfortable with her sexuality. Though she doesn't always carry it off, the eagerness to experiment with her image is evident. Her depiction is imperfect but commendable. The dialogue delivery department needs to be worked on though.
Rahul Bose is convincing as the confused, guilt-ridden, self-centred, cowardly bloke trying to save his conscience unsuccessfully.
I don't know if the moron bit is deliberate but Divya Dutta hams uncontrollably. Someone please tell the otherwise intense actress not to wear those glittery butterfly clips in her hair. Even kids consider it passé now.
Silsila 2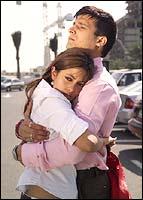 Subject: He loves me. He loves me not. If not, try another flower.  
You may ignore the fact that Anushka (Riya Sen) belongs to the middle class section of society and is a receptionist by profession. But you simply cannot overlook her 'wow' inducing wardrobe and perfect make-up. That aside, she is going around with Nikhil (Ashmit Patel). The long-haired dude is I-will-marry-you-if-you-sleep-with-me kind. Initially, Anushka is game but after seeing a trailer of his tactless lovemaking skills, she passes a veto.
Of course, that doesn't prevent the duo from locking lips and more in public. Anushka's bottom-pinching roomie, Pia (Natassha, and Zia, Dia, Pia…hello?) isn't much of help either. She is all for casual sex and in true Eminem fashion harps 'Just lose it'. Virginity that is.
Enter Mr Back up aka metrosexual man aka Tarun (Jimmy Shergill), Anushka's colleague. He proves to be the proverbial shoulder to cry on and more.
Moral of the story: Frogs are frogs. Not royalty. Don't kiss them.
The acting: Riya Sen looks lovely. She isn't high on histrionics but delivers a decent performance. Ashmit Patel conveys the 'jerk' suitably. Ditto for Jimmy Shergill as 'Mr Nice Guy'. Natassha could have toned down her boisterous and sexually charged Pia a little.
Silsila 3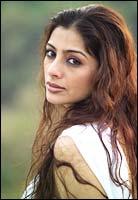 Subject: Pati, patni, woh and the mysterious phone call.
Rehana (Tabu) is Anwar's (Kay Kay Menon) Biwi No. 2. A high-society housewife with a dry sense of humour and small-town naiveté, Rehana believes Khamoshi kamzori nahi hoti' (Silence isn't weakness).
Her stepson Inayat (Karan Pathanky) is secretly infatuated with her. He gives her blank calls and harbours hatred for his grim-faced daddy.
Both Rehana and Inayat are aware of Anwar's infidelities. Anwar is having a rollicking affair with an airhostess, Preeti (Celina Jaitley), and intends to marry her. Preeti is in a Catch 22 situation. She doesn't want to be a home breaker and is tempted with the diamonds-are-a-girl's-best-friends mentality.
Moral of the story: Older men make unfaithful hubbies.
The acting: Projecting timidity and inner strength for a character that evolves in 35 minutes is not easy. But Tabu is a pro at it. Her sensitive and restrained acting makes Rehana a picture of tolerance and grace. Kay Kay doesn't have much to do except look seduced or disinterested. The actor lacks a dashing presence to carry off a desirable businessman. Celina Jaitley sizzles in the song Belibaas. As the angst-filled youngster suffering from Oedipus complex, Karan Pathanky impresses.
Final word:
Journalist-turned-filmmaker Khalid Mohamed tells an engaging story of three women in love who discover their identity after going through sour relationships. How women take time to get over and move on, as opposed to men.
Among the three stories, the first is clever, the second is predictable and the third is emotional. The climax is dealt in a disappointing manner. The film could have ended earlier, instead it stretches unnecessarily for seven or eight minutes.
Since the director explores three lives in 15 reels, the story lacks depth. The characters have to grow hurriedly. As a result, some of the subplots remain underdeveloped.
The viewer has to draw a lot of subtext regarding the protagonists' psyche on his/her own accord, because their behaviour is neither explained nor justified. Like why does Zia crave for a baby? Why does Anushka not go to New York?
The understated nature of the dialogues assists the characters and makes them somewhat identifiable and human.
The pace could have been tighter. There are too many songs (by Himesh Reshammiya) hindering the proceedings.
On the whole, Silsiilay is an interesting journey into the unpredictable minds of three women who walk, fall, rise and walk again.