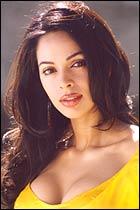 Ouch.
Can a young man actually tire of being exposed to cleavage? No, we'd all say, but Govind Menon has accomplished this impossibility with his latest film, an uninspired remake of Heartbreakers that leaves you exhausted, and possibly reeling with a headache.
Unsuspectingly lured by the inevitably oomphy Mallika promos, audiences -- a primarily male demographic, would you believe? -- trickle into the theatre in a hunt for titillation. And maybe even some laughs.
The premise, on paper, sounds okay. David Mirkin's Heartbreakers was never brilliant, but surely held good for a few laughs, with fantastic performances from Sigourney Weaver and Gene Hackman, the film appropriately cast by thrusting the buxom Jennifer Love Hewitt as the primary bombshell.
In Indian terms, the major cast seems more than apt -- Mallika Sherawat, the lady with the bod to out the Jennifers; the Industry's veteran seductress, Rekha; and a couple of always spot-on comics, Paresh Rawal and Satish Shah. And, like the wasted Jason Lee in the original, Menon's version too features a nondescript 'hero', Karan Khanna.
| | |
| --- | --- |
| | More on rediff.com! |
| | |
Alas, this isn't as perfect as it initially seems. Paresh Rawal is called in to play Ray Liotta's role in the film, and this certainly needed a younger funny-man.
The film opens on the great comedian reduced to this raucous role of loud Punjabi Monty Bagga. His jarring tomfoolery is extremely out of place, and it's just tragic to see the fantastic actor reduced to pouring ice down his boxers, a la Liotta. The film rips off a lot, quite faithfully, but makes a lot of 'creative' diversions, which ruin it. Hence, Rawal feels the chill, but doesn't get frostbite like in the original, making the setup redundant. Still, anything to escape his snoring new bride.
Who happens to be a nightmare. Don't get me wrong, I thought Rekha sizzled when she mudwrestled Akshay Kumar in Khiladiyon Ka Khiladi. But that moment, believe it or not, was nine years ago.
Bollywood's diva has since been invaded by alarming layers of wrinkles, and, with this film, a total demystification of her enigmatic self. And the results are painful. We're introduced to her as ace seductress, but as she lumbers along in ridiculously coloured swaddling outfits, mouthing very over-the-top and bizarre accents, the way she ends up making men feel week-kneed isn't exactly what is expected.
Worst of all, she actually looks like she believes she's sexy. Uh-huh. Leave behind the seduction, and the badly botoxed pout, and please, pretty please get out of the 'pomeranian in heat' mode. Madame Re, retire.
Rekha plays Rukmini, a con woman who marries rich bakras and leaves them after they're caught fooling around with Padmini, her niece. Yes, they were mother-daughter in the original, but Rekha obviously put her foot down at the thought of sexy Ms Sherawat playing her kid. But the cons are vaguely left incomplete. Even when Rekha's casually tossing shattered glass over her food to wangle out of paying for the pasta, the very act of the con is ignored. Oomph looms overridingly over the entire production.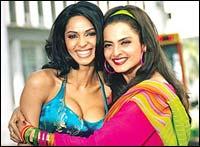 Which isn't a surprise, as this is a Mallika Sherawat film. The actress has the undeniable 'knack' of making sure your attention isn't riveted to her expressions, and this film sees the neckline plunge lower and lower. And she does what she does best: bounce. Until it can't physically plunge no more, and you get -- here's the surprise, Govind Menon -- really bored.
There's a reason Baywatch has never been made into a movie, that Pamela Anderson will never be on Hollywood's A-list. And here, our director subjects us to three mind-numbing hours of eye-candy, supplemented by a noisy and insufferable film boxed around it.
So there's conning, and a lot of it. Even as the sincerely heartbroken Paresh Rawal parts with his moolah over fears of doling out greater alimony, the mausi-bhanji duo scoot to Mauritius, in search of heavier wallets.
Here they find Satish Shah, who, despite Ms Sherawat's stunningly statuesque self, steals the show. His Fakirchand Mansukhani is a delightful take on Hackman's grizzled old fruit, and is a superbly restrained performance. It even manages to make us laugh despite Rekha crowding around him, trying way too hard.
Oh, and there's a blink-and-you'll-miss-'im bar owner, played by Karan Khanna. Vinod Khanna's nephew lives out his adolescent fantasies on screen, but thankfully doesn't get in the way a lot, his role basically that of a Mallika-besotted man, playing lapdog whenever she walks in and asks him to beg. After Unc got him the role of his teen dreams, he's barely acting at all.
The songs, obviously a total addition to the taut Heartbreakers narrative, are godawful. While they understandably give Mallika an excuse to pop into something a little less comfortable, the music is plain annoying. In keeping with the rest of the film, they jar disturbingly, making you wish for earplugs. Like Kylie Minogue concerts, Mallika Sherawat song sequences are obviously meant to be watched a la mute.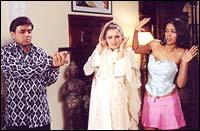 Also, she shrieks. Quite often and piercingly high pitched. But when she doesn't, she's not all bad. She's the only one in the film acting her age, which is, in Bachke Rehna Re Baba, a tremendous advantage. The film showcases her winsome body in all sorts of sartorial contraptions, from Haryanvi cholis to polka-dotted tied shirts, and that seems the only reason for really playing the con-game differently dressed each time. Because Mallika Sherawat can send you into a doozy while wearing just a tee-shirt and jeans, without even having to try.
Here, sadly, it's all about trying. And fighting. While Heartbreakers, at a certain core, was a vaguely affectionate story about mother-daughter bonding, however twisted, this film has none of that. Both aunt and niece characters constantly tear into each other, concentrating on individual screen-presence, hardly caring how the film ends up.
Of course, given the fact that Mallika kisses with one eye on the camera to make sure she comes off looking her best, this lack of storytelling attention isn't really shocking.
Mallika Sherawat is no actress. She's super-sexy, sure. But who needs a whole film -- especially this one -- merely declaring that?