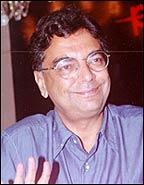 Journalist-turned-director
Khalid Mohammed
's
Silsilay
, a woman-oriented story, hits theatres on Friday. 
In a freewheeling conversation with Raja Sen, the director spoke about his new film, working with Tabu, and why he gets locked in bathrooms. Excerpts:
Silsilay is an interesting subject. I was just sitting at home, idle. Journalism isn't something that takes up a big part of my life, since I don't have a desk job (This has changed since Khalid's recent appointment with Daily News & Analysis) but I do try to write articles and stories whenever I can.
I had two scripts which were male dominated. They needed big stars and would have taken a lot of time to put together. So I thought, in the meantime, I'd do a small film.
| | |
| --- | --- |
| | Silsilay on rediff.com! |
| | |
The impetus for this was a French play called Human Voice, by (Jean) Cocteau. That is also about contradictions and ego, but there is nothing from that in Silsilay. Human Voice is basically a monologue by a woman on the phone, telling her lover to get the hell out of her life, at the same time wanting to hold on. It's that kind of contradictory impulse in my film as well.

The three stories are very different. The first one is about a telephone receptionist who has come from Dehradun to work in the big city. She is in love with a guy, while another guy is in love with her. It's basically about this girl finding her sexual identity, finding love, and negotiating with a tough city like Mumbai.

The second one is about an actress, somebody from the South who is making waves in Hindi cinema. She has been living with the guy who groomed her for three years. Their relationship breaks up. She wants to tell him to get out and, at the same time, hold on. This story is perhaps, in flavour, the closest to Human Voice.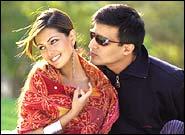 The third story is about Tabu, who is married to Kay Kay. He is having an affair with an air-hostess, played by Celina Jaitley. She knows about the affair, like many housewives do. At first, she pretends to look the other way, so that the home isn't ruined. She is not a confrontationist. But then she is pushed to a corner where she has to confront the situation.
And these three women have a common thread running through them. They have evolved their own identities and are no longer living male-dependant lives. The characters criss-cross throughout the film.
It isn't a non-linear film; it's very straight. First story, second story, third story. There is a narrator (Shah Rukh Khan) who will put the three stories together.
The performances have been great. I think all of them have done better than I expected them to. Bhoomika is playing a role very different to her on-screen persona. She plays a very bold character here, and we've given her a different look. Tabu, I found, is an effortless actress. I wanted her to do Tehzeeb (in which Urmila Matondkar eventually starred), but that didn't work out, so I'm fortunate that she's doing this film.
The same thing happened with Urmila. I wanted to work with her in Fiza, but only managed it in Tehzeeb. So there's a cycle here.
I'm very proud of Fiza (starring Karisma Kapoor, Hrithik Roshan and Jaya Bachchan). I had a statement to make and I made it and the film made money. Some people may not like it, but I feel that's my life's greatest achievement. There are people in American universities who are doing theses on it, which makes me feel good. Apart from my reviews, which I think are really unique.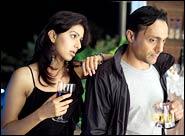 Tehzeeb is like a baby, which had some defects. I don't think it got the audience it needed, because it was marketed wrongly. It was a niche product, which needed to have a specialised release. I think it's not a great film, but I think A R Rahman and I tried to work out a different kind of music, but it wasn't appreciated. I really like the score.
I put a part of me and my life in every film I make. For example, Urmila could perhaps have been an example of me, confronting my mother. I lost her when I was very young, and she was said to be very flamboyant, so it's about me and my resentment. Similarly, in this film, there are lots of touches. Tabu gets locked in the bathroom and has a panicked fit, which happens to me a lot (laughs). I end up not being able to move the handle right.
Essentially, I think stories have to grow from oneself. There are European influences (Tehzeeb was inspired by Ingmar Bergman's Autumn Sonata), definitely, especially at the kick-off point. But the films become mine very soon.
Silsilay is more commercial than Tehzeeb, but we're trying to make it within a restricted budget. Everyone has a search for sexual identity, which is something young people would be able to identify with.
I love songs. The film has songs out of choice, because I want them there. Criticism (his being a critic) and songs don't often go together, but I don't see that point. I try to get the songs to push the narrative forward.
If people want to find fault… (smiles) I think people criticise me more than my movies. If Tehzeeb had been made by any other name, I think it would have provoked a different reaction. There are people in the media who like you, and people who don't. It happens.
I don't know if I want to make any more movies. Which is something I know I end up saying during the course of every movie, and end up making another one. I think I have to reassess my life after this, and see what I want to do. Basically, I haven't taken a break for a really long time.
There's (artist) M F Husain's biography that I'm doing, which I have to complete soon, so I'm hoping I can concentrate on that once the film's over. There's a novel in progress, but I haven't been able to get past chapter one. I've been dabbling in a bit of painting. So let's see.