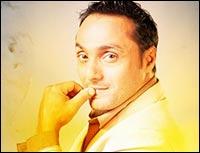 Rahul Bose is one of the three leading men in critic-turned director Khalid Mohamed's woman-centric Silsilay.
The film, starring Tabu, Bhoomika Chawla, Riya Sen, Celina Jaitley, Divya Dutta, Jimmy Shergil and Ashmit Patel, releases on June 17.
On the sets of the film, Raja Sen caught up with the actor to get his take on his latest release.
What's your character like in Silsilay?
I play this sharp South Bombay kind of guy. So according to Khalid, I'm hardly acting! I don't know how true that is.
But my character has a lot of energy, has had a relationship with this actress, and is in the midst of extricating himself from it in order to get engaged to a typical South Bombay girl. So the film, for my character, is what happens in the complications of moving from one girl to the other.
| | |
| --- | --- |
| | More on rediff.com! |
| | |
Do you relate to his character? Is he a lot like you?
His name is Neil Kashyap, and he comes from a rich family. It's a construction background, but you hardly see that in the film.
He is different from me.
For one, he's constantly on the phone with his bookie, always betting on cricket. This is something a lot of guys I know do nowadays.
And two, he's obviously the marrying kind, which I'm not! (Laughs)
I think it's pretty socio-culturally close to the world I come from, so in that respect, shooting has been much easier than the shooting I just finished for Buddhadeb Dasgupta's Kalpurush, where I play a middle-class Bengali man.
Neil needs to do few things at a time. He's never still, constantly moving. I like this character's mobility. He has a good sense of humour, but he's also sensitive.
Do you think you end up playing too many similar characters?
I'll have to ask you that.
Is my role in Jhankaar Beats similar to my role in Thakshak?
Is my role in Split Wide Open similar to my role in Everybody Says I'm Fine?
Is my role in English August similar to my role in Mumbai Matinee?
I mean, hey! I don't know where people get this notion.
I think they get this notion because Mr & Mrs Iyer was a quiet role, Chameli was a quiet role.
But in Silsilay, this character is not.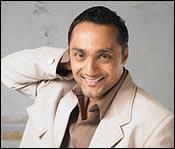 Of course not. You're singing songs here. Isn't that something you swore never to do, be part of a Bollywood song-and-dance number?
I'm not singing.
I'd rather cut my throat than sing.
Unless it's logical.
In Jhankaar Beats, I sang because he's part of a band.
If it's logical, and I'm playing a disco role, I don't mind disco-dancing.
It just has to be logical.
So you wouldn't do the typical hero-wooing-heroine-around-trees bit at all?
Out of the question.
First of all, I think I'd be very bad at it.
Secondly, it's just impossible for me to do any action that's illogical.
For the character, that is. Build it in from the beginning, that's fine, but if you don't, then that's not fine.
How is it working with Khalid?
Khalid's very chilled, very laidback.
He's very collaborative. He understands the character and his sensibilities. So I'm very secure that he knows who I am, and I know who I am.
Equally, working with Santosh (Sivan, the cinematographer) is great because he's totally in sync with what's going on. He has mercurial ideas, so there's a lot of energy on the sets. And it's a great atmosphere of ease and friendliness, which I haven't always experienced.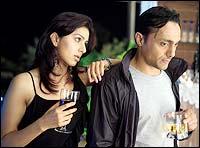 What about Bhoomika Chawla, your love interest in the film?
Bhoomika's a good actress! I've never seen her work, never met her before in my life.
She's extremely polite and gentle. She's obviously worked in movies a lot, and that shows. It's convenient working with people like that. She's not raw at all.
She understands the role she's doing, especially in the milieu here -- semi-commercial, semi-arthouse -- she understands it.
I haven't worked with her in an arthouse movie, but she certainly understands how to be commercial yet do something that is believable.
What are your other projects coming up?
Kalpurush is something I'm extremely happy about. I'd venture to believe that's some of the finest work I've done to date.
I've put on four or five kilos around my stomach. I play a middle-class guy who's never exercised a day in his life, so I put on some weight for that. I had longer hair. It's very, very Bengali. It's a beautiful script.