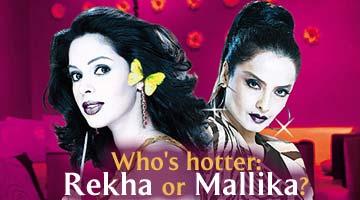 The question is a tough one.
One is the enigmatic Indian woman of mystery, the seductress of several decades who remains worthy of abject lust.
Rekha is the embodiment of the word 'Diva'.
The other is the scorching bombshell with oodles of oomph and cartloads of candour.
Mallika Sherawat just can't help the world drooling after her. She defines the word 'Babe'.
Now, the two come together in Govind Menon's Heartbreakers remake Bachke Rehna Re Baba, releasing this Friday.
And all you need to tell us is: which one is hotter?