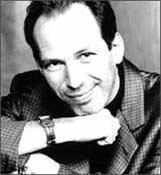 Academy Award-winning composer Hans Zimmer is scoring the music for Christopher Nolan's Batman Begins, and this marks another rare occasion when the composer is considered 'a cool dad.'
Zimmer has composed music for films like Mission Impossible 2, Gladiator, The Ring, Nine Months and The Last Samurai.
Zimmer spoke to Raja Sen about reinventing Batman, and moving away from Danny Elfman's legendary Batman theme, among other things. 
You once famously said The Lion King was the reason your daughter thought you were a cool dad. Now, with Batman, what does she think?
Yes, she did. Finally, I was a cool dad. (Laughs) And now with Batman again? Absolutely. In fact, I asked her that maybe two weeks ago. And she told me that I'm still cool. Then again, maybe she was just fishing for tickets for the premiere.
Are you personally a Batman fan?
When I was growing up, my parents didn't let me read any comic books. So I would trade them with my friends at school, and hide them under my bed. Batman always appealed to me -- the fact that he was fallible, he had problems, that he could get hurt… these were all important for a kid to know.
| | |
| --- | --- |
| | More on rediff.com! |
| | |
Gladiator, Thelma & Louise, Shark Tale, Lion King… and now Batman Begins. How do you make the transition and move on from one different project to another?
I get bored really easily with what I do. If somebody gives me a new playpen, I get very excited. I get really into it. I like new toys. What the movie is, what the characters are about -- these are really exciting for me.
So when Chris narrated the script to me, I didn't just hear the Batman part. What I heard was about a little boy, how his parents get killed, and what he goes through as a result. That's what I think is interesting. I'm no good with goodie-goodies. There has to be emotional conflict.
In your own words, describe the Batman Begins score.
When Chris explained the project, what I got out of it was this idea of technology, and somebody doing something with technology that is slightly beyond what humans can do. So I decided to take the orchestra and treat it electronically. My attempt to create a slightly superhuman orchestra. I tried to make it like a pop record, and applied that styling to a soundtrack.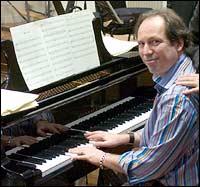 Are you happy with the way it has turned out?
I'm never happy with the way anything turns out! That's why I'm still writing, isn't it? But yes, about Batman Begins, I'm not ashamed by it. And I am very happy with the way Christopher Nolan treated the film. This is a very good take on something that had become ludicrous by the fourth film.
Is there a lot of research involved when you're working on a score? What about when it's for something like Batman?
None whatsoever! When I was doing The Last Samurai, I decided to really try and get under the skin of the film. I started delving into Japan, reading more and more books, more stuff. And then I realised, after a while, that there was no way -- not if I lived to be a thousand years -- that I could ever really grasp the culture.
Then, sitting in front of my keyboard, I thought to myself, 'This is what they hire you for. This. Not for becoming a historian, a sociologist, or an anthropologist, but invent music. That's what I was doing with Batman. Invent.
Research aside, do you try relate to the characters?
Do I feel their conflicts? Sure. But sometimes it's harder. I remember telling Ridley Scott that working on Thelma & Louise was really hard because it was about two women! And I had no idea how women think. With Black Hawk Down, I went and got soldiers who actually fought in those wars to talk to me and the other musicians, which was a great experience.
But relating on a peripheral way is different. Ultimately, you cling on to a tiny, tiny thing that you just relate to, with the character. A theme of loneliness, or, one particular thing I'm quite good at -- the theme of a foreigner in a foreign country, alienated, speaking in a language that nobody understands.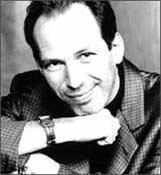 Batman is a franchise that Danny Elfman has already given a hugely memorable theme to. What is it like when you are expected to take that music forward?
I don't have a Batman theme. I didn't watch the movie again, on purpose. And, when James (Newton Howard, his co-composer) and I were working in the studios, Danny was in the other room working on (Tim Burton's) Charlie And The Chocolate Factory. So we'd kid around, and I'd ask if he wants to help with some bat-stuff. And he'd laugh and say, 'I've already done it. It's your problem now.'
It is going to be compared with his work, but I can't help that. It's not a fair comparison. Like when The Beatles are compared to The Stones: they may both be singing a lovesong, but that's about all they have in common. And this is a Christopher Nolan film, which just happens to be called Batman. And that makes it completely separate from a Tim Burton film.
Do you like Indian music? Are there any Indian influences used when you're composing music?
When I was growing up, I think the first concert I ever went to was Ravi Shankar's. It's somewhat like my Last Samurai experience. In that, I can appreciate it tremendously, love it, lose myself in it -- but I will never understand it. And that's just great. I can enjoy and feel the music across cultures, across generations. Music is a greatly mutual experience.
And India has amazing percussionists. I went through a phase once when I was really into John McLaughlin, Shakti, and all that stuff, and really enjoyed it. Your country has such a wealth of talent. Hollywood likes to believe it has film composers. You guys have the film composers! So many, and of such quality. It's fabulous.
The best thing about music is that there's no snobbery. There's no racism. You either play your instrument really well and you move me, or you're not in my band. Even if we don't speak the same language. And it's an art that lets you express your identity. Where you come from, your culture, your background, it has a distinct, individual identity. And music lets you preserve that identity, without a political, nationalistic, horrible sort of way. No one has ever gone to war over a piece of music. And that's a good thing.