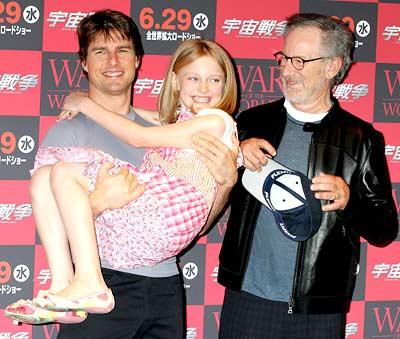 Steven Spielberg's new film, War Of The Worlds, is among the summer's most anticipated blockbusters.
For one, it stars Tom Cruise.
Second, this sci-fi retelling of H G Wells' classic alien-invasion story is said to be so fantastically laden with great special effects that the ace director himself has said he is excited.
That is pretty darned big news.
The film is about the Ferriers, a family trying to cope with a massive alien invasion. The tripod-like alien battle machines are sweeping earth and the Ferriers are doing whatever they can to fight back. To stay alive.
Tom (left) plays Ray Ferrier, and in his arms here, in this still from a press conference promoting the film in Japan, is his co-star Dakota Fanning, who plays the little girl of the family, Rachel. Director Steven Spielberg (right) seems content enough to actually take his trademark baseball cap off.
War Of The Worlds releases in the US on June 23, and in India on July 1.
Photograph: Getty Images