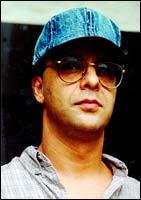 Filmmaker Vidhu Vinod Chopra is on a roll. After selling his Munnabhai MBBS script to 20th Century Fox, he has already completed the script for Lage Raho Munnabhai, and his new film Yagna is already under way. Not to mention his period production, Parineeta, which hits the marquees today.
After completing the big Hollywood deal, the director chatted with Tanmaya Kumar Nanda before flying out of New York.
So why did you decide to make Parineeta, a film based on a Sarat Chandra Chatterjee novel?
I make movies like this so I can be proud of the film. I'm proud of this film already: the music, of everything we've done in this film. I have a new girl (Vidya Balan), I have a new director (Pradeep Sarkar), a new cameraman (S Natarajan Subramaniam), a new lyricist (Swanand Kirkire), a new music director (Shantanu Moitra). You need a lot of ****s to spend the kind of money that I spent with all these new guys!
How much did the film cost you?
Helluva lot! More than Rs 25 crore (over $5 million) at last count and still counting.
| | |
| --- | --- |
| | Parineeta on rediff.com! |
| | |
There will be comparisons with Bimal Roy, of course.
There will be, yes and no. We are prepared for comparisons. The original is set in 1914, we've set ours in 1962. We brought it 50 years ahead, and that has made this film very contemporary; it's period but it's contemporary period. You understand, it's very different.
Our film is a free adaptation. It's like Shakespeare's Hamlet. We spent a year-and-a-half writing it. There are characters in the film that are not there in the novel, or underrepresented.
I read the novel when I was ten, in Kashmir, and I knew then that I wanted to make a film on this. And finally I have made a movie. It's like a dream. I am living a life that is very beautiful, because I'm living my dream. I always wanted to make movies and I'm making movies.
I suppose you consider yourself fortunate.
I cannot tell you how much. Can't tell you how many times I thank the Lord; my kids and I sit and say Om Bhoorbhuva Svaha Tatsavitu Varenyam, the Gayatri Mantra, and say 'Thank you Bhagwanji for everything.' It's very rare that you live the life of your dream. These are the dreams I had as a child.
I am from a small town, from Srinagar, Kashmir. I read ABC in class 10! I didn't know English, so I read Hindi literature. So coming from there to Dustin Hoffman saying, 'Great script!' -- It's beautiful!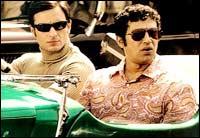 What were you doing with Dustin Hoffman?
He was reading another script I have written. Just a few days ago, I was having dinner with Peter O'Toole in London, and he called us for dinner. Gave me such a warm hug after reading something I wrote. It's truly unbelievable, if someone had told me Peter O'Toole will call you for dinner, and you will have chai with Dustin, and 20th Century Fox will make a film of your script (Fox bought the rights to the script of Munnabhai MBBS). This is what dreams are made of.
The music of Parineeta sounds rather nice, and that's something that you also gave us with 1942: A Love Story, quality music? Would you consider yourself someone reviving good music, considering 1942 was the last film that Panchamda (R D Burman) did before he passed away?
Yeah, because people are already calling Parineeta, 1962: A Love Story (laughs)! Absolutely, it makes me feel so happy, so proud. When the music was out, people that have nothing to do with me congratulated me (whips out his PDA to show SMSs): Ram Gopal Varma: 'I don't remember the last time I heard music coming straight from the heart'; Amitabh Bachchan: 'Beautiful, lilting music.' People like this. Why would Amitabh Bachchan send me an SMS?
What do you feel about the standard of music in the Hindi film industry today?
Very low. I see my promo with everything else. Every other promo I saw, the women are thrusting their b**bs or whatever else they've got into the lens. I'm not passing moral judgement here, but its damn boring, you know. How many b**bs and t*ts am I going to see? It's boring for me.
And then the Parineeta promo comes on and it's just a frame and (starts to hum) Piya bole, piya bole, nananana jaanu na and I sit back and I say 'You know what, I'm proud of this music, I'm proud of this promo, I'm proud of the fact that in the middle of so many t*ts and butts, I have the ****s to create this music and then out it out there and then spend money to promote it.
How hard was it to recreate the Calcutta of the 1960s?
It took a lot of time and cost a lot of money to do this. (Grabs the publicity brochure and starts flipping through the stills) It cost us a lot of money and difficulty to get that green car, but that's what making a film is about, that you really go out and do what you want to. This grand piano is authentic 1940s, 1950s ka piano.
This train (still flipping) created such a hassle, the first time it came ulta (in the wrong direction), we couldn't take a shot and it cost us a helluva lot of money to reschedule the shooting because those fools brought the engine ulta into the platform. It's fun, it's difficult, but that's what makes it fun.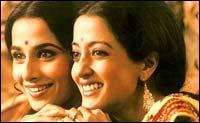 What's it like to be making a film with such diverse actors like Saif Ali Khan, Sanjay Dutt, and an absolutely new heroine, Vidya Balan?
You know, I never go on the set.
Why not?
I don't want two directors on the set. I write and I edit but I never go on the set.
Doesn't it scare you that the director might mess up your script, your film?
It scares the hell out of me but I don't do it, as a policy I don't do it. Either I take a director to make a movie or I don't. As we speak, the sequel to Munnabhai is being shot, Raju (Hirani) sent me a message.
And I also never sign cheques. Parineeta cheques were being signed by Pradeep Sarkar and his wife. I put the money in the bank, I say 'Here's the checkbook, here's the script, now go make the movie.' Show me when you are done.
What's the logic?
That comes from the fact that if I ever went on the sets of Parineeta, Sanjay and Saif would rather watch me rather than the director for an 'okay', and I never wish that.
When I make a movie here, as much as I like, say, Francis Ford Coppola or someone, I would never have them on the set because then the actors will look at him for approval and not me, and I don't want my director to suffer that.
Who are your idols as directors or writers?
In India? I'll tell you about India. Because they are very clear: I rank Guru Dutt, Mehboob Khan, K Asif, Bimal Roy and V Shantaram as the only filmmakers India has ever had. Look at their work, and then early Raj Kapoor -- not the later ones because he then went corrupt. But look at the calibre of that work and look at the kind of shit we are making now.
Can this be reversed?
By this logo I have created, Vinod Chopra Films. I am not alone now. Earlier I was alone, I was making one film in three, four years. Now a bunch of young people, like Raju Hirani, Sanjay Leela Bhansali, Pradeep Sarkar, are making movies that I am proud of.
The only way to reverse it is to show people that good cinema, entertaining cinema -- Parineeta is a very entertaining film, it's not boring, it's not a preachy art cinema. When it makes five million dollars, other people will also be encouraged to make films like this. 
Aaj Tak did a story recently that music directors, after seeing the success of Parineeta's music, went to their producers and said 'See, good music sells, so don't make us do crappy work.'
So that whole movement towards garbage changes, because it's good and it's selling, that's critical. Parineeta is not good music that nobody's buying. It's sold out, so other guys will say 'Lets make good music.'
So it can all be changed by the success of Parineeta. If Parineeta is as successful as we hope it is, and if people like it as much as we hope they will, more good films will come: it's simple: if you make a bad film run, more bad films will come.
So why did you move away from directing?
I didn't move away, I was writing Yagna; we've started shooting it. It's just that I got involved with Raju Hirani, who was my editor. Then I got involved with Pradeep, who was working with me on Mission Kashmir. I was writing Yagna, and I'm filming it in September-October. That's my next film.
Who among the current crop of young directors -- there's a bunch of them, Sanjay Leela Bhansali, Aditya Chopra, Karan Johar -- do you like?
Sanjay worked with me for many years, for seven or eight years. It's very difficult for me to be objective. I think Pradeep Sarkar, in Parineeta, showed a lot of young people what to do with a film. I think Raju Hirani showed that in Munnabhai and I think Sanjay Leela Bhansali showed that with Black.
I think Farhan Akhtar made a very good film with Dil Chahta Hai. I didn't like Lakshya so much as his first, though.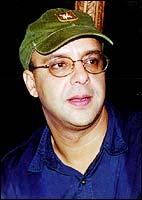 Are you deliberately pacing yourself between films?
It takes a lot of time to write. It took me a year and half to adapt Parineeta, it took me the same time to write Lage Raho Munnabhai, and now it has taken me three years to write Yagna.
It's a helluva writing job to get it there. I write my own films, and now my writing has reached a stage where Fox is buying my writing; it's not easy. I would love to make a film every three months, but I can't unless, by magic, some script appears from somewhere that I like. To write fiction takes time.
Do you feel Parineeta will be judged by the standards of period pieces, alongside other films like Devdas?
Even if it is, I don't care. I think it will stand by any standards you may apply to it. I am aware that when I make a film, doing a Sarat Chandra novel, I know people will compare it to Devdas. They will; they should. I think we've done a wonderful job, let them judge.
I'm not comparing my film with any film. I'm not saying 'My film is better or worse.'
When they hear my music, when they see 'Vinod Chopra Films,' I want them to expect a great film, this is the logo of quality. Judge me by the highest standards.