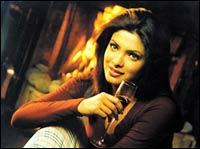 She loves me. She loves me not.
Arjun Rampal wants to know the truth behind Priyanka Chopra's past misdemeanours and present benevolence. And so do the audience in the soon to be released thriller, Yakeen.
Directed by dialogue writer Girish Dhamija (Kasoor, Raaz, Bardaasht), the film is due to hit screens on July 1.
Though the story, going by its promo, promises a tangy mix of twists and turns, there is nothing groundbreaking about Himesh Reshammiya's music.
| | |
| --- | --- |
| | More on rediff.com! |
| | |
For starters, too much déjà vu makes Tune Mujhko far from novel. The run-of-the-mill duet just echoes Reshammiya's earlier melodies.

One just cannot escape the assault of mushy lyrics in the Aankhon, Saanson, Sapna, Dhadkan song. Despite its trite lyrics (by Sameer), Meri Aankhon Mein by Sameer is surprisingly not too bad. The album includes an instrumental version of this track. Karaoke, anyone?

Forget-me-nots are the order of the day. Bhoola Nahin is projected as Yakeen's USP song. The number features three times in the soundtrack. One each sung by Shaan and Sunidhi Chauhan, and a racy version, again in Shaan's voice. It isn't exactly chartbuster material but since it is repeated so many times in the album, it grows on you. Or maybe we can just give a distorted version of Oscar Wilde's quote -- The only way to get rid of mediocrity is to yield to it.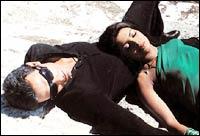 Sonu Nigam whines. Alka Yagnik groans. The effect is intolerable, insipid and irritating. Chehra Tera is high on uninterested singing.
Tu Hi reeks of monotony, thanks to its predictable tunes and clichéd lyrics. This weary romantic song is just that -- another song.
There are films with strong music. There are films with awful music. There are films with situational music. There are films with `item' music. And then there are films that have music just for the heck of it. Yakeen falls in the last slot.
Don't Miss!
Yakeen: The story in pictures